When it's time to clear some land, contractors have a variety of construction equipment attachments to handle the job.
(Find all your construction-equipment attachments needs in one spot with Equipment World's free 2020 Attachments Yearbook. Download the 2020 Attachments Yearbook PDF)
Crush stone, mulch stumps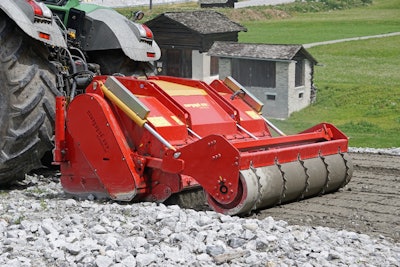 Seppi's Supersoil forestry tiller and soil stabilizer can not only till the soil but crush rock as large as 16 inches and mulch stumps and roots up to 20 inches. It can till as deep as 12 inches and crush surface objects into a fine mulch to decompose. It comes in widths of 89 and 98 inches. The tractor attachment can also be used for creating and maintaining gravel roads, grinding building rubble on construction sites and clearing forests after trees have been harvested. The Supersoil even was able to return 10 acres in Switzerland covered by a deadly rockslide in 2017 into land able to grow lawns and crops again.
Turn tractor into dozer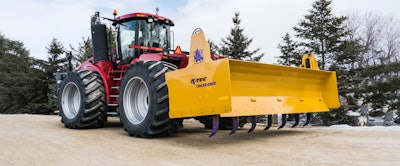 K-Tec Earthmover's Tricerabox is a 14-foot-wide box blade that mounts to the 3-point hitch of a 500-horsepower-plus tractor. The Tricerabox has three functions: a leveling box that pulls material forward, ripper teeth that sink into the soil, and blade backward for pushing dozing material. K-Tec compares the tractor/Tricerabox combination to a dozer, saying it burns less fuel, reduces undercarriage costs by at least half and offers higher speed around the cut zone. The attachment can also level uneven cut zones, rip hard soil and aerate wet jobsites.
Saw trees with rotating blade
Sidney's Power Tilt Tree Saw for skid steers can cut trees up to 2 feet in diameter along with brush. It can rotate 90 degrees to prune or cut down trees and is compatible with low- and high-flow skid steers. The saw can cut up the trees into manageable sizes. Its steel sawmill blade is designed for fast cutting. Eight Kodiak carbide teeth are held in place by rivets; Sidney provides a tool for their replacement. The blade is designed to eliminate pinching and binding. The saw is engineered to reduce heat and noise, as well as hose and gear box losses. It weighs about 950 pounds and has a universal quick attach mount.
Scrape, level with six-way blade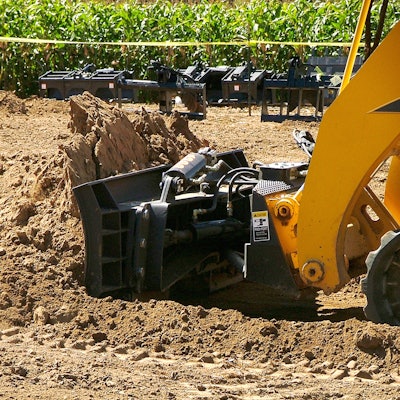 Edge's Dozer Blades for skid steers and compact track loaders are designed for a variety of uses, including scraping, leveling and even flood cleanup. The six-way blades range in size from 6 to 9 feet wide. They can move left and right at a 30-degree angle and tilt right and left up to 10 degrees. The blades feature electro-hydraulic angle and tilt from the cab. The blades have replaceable cutting edges, hoses and flat-faced couplers included. Control harness adapters are optional. The company sells four models of dozer blades: DB72, DB84, DB96 and DB108 (the numbers indicate the paving width in inches).
Slice through 18-inch trees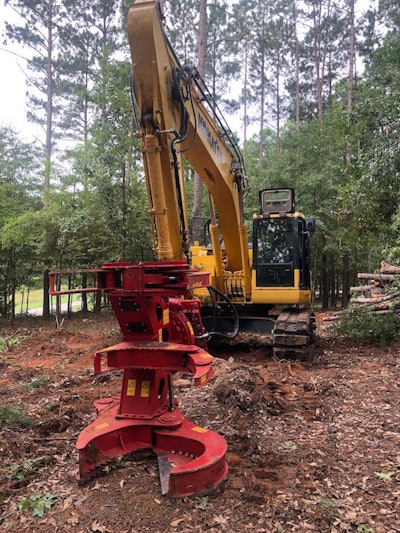 Fecon has designed its FRS15 shear for excavators to reach and cut more trees in land-clearing, right-of-way maintenance, pruning and tree-thinning operations. The attachment can rotate 360 degrees, meaning better access to trees and less need for the operator to reposition the excavator. It can slice through trees up to 18 inches in diameter. It can also gather groups of smaller trees in its accumulator arm for continuous cutting. The attachment holds the tree or trees while cutting. Its arms grab the trees to be removed and dropped at the debris pile.
Customize mulch particle size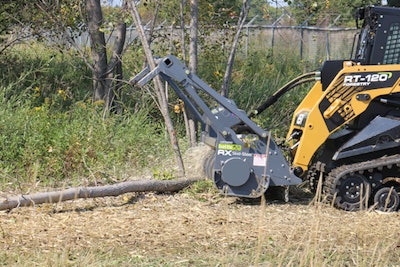 Loftness' Battle Ax horizontal drum mulcher available in cutting widths of 61 and 71 inches and designed specifically for skid steers. The attachment's 17-inch-diameter rotor features built-in depth gauges, which function similarly to raker teeth on a chainsaw, to prevent the device from taking on too much material at once. A two-stage cutting chamber allows material to be cut twice by the rotor to produce small particle sizes. The primary shear bar is adjustable for customizing particle size. The cutting teeth are mounted to the rotor with a single hex bolt for easy removal.
Pierce and grab stumps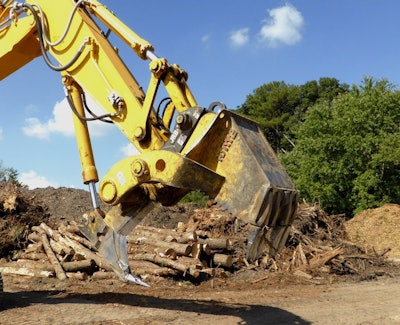 The Nye SHX350 Stump Harvesters from National Attachments are designed for removing and cutting through large stumps, as well as splitting trees lengthwise on the ground. The device uses a piercing tip to split the stump with and across the wood grain as the jaws close in and grab the stump or log. It can handle trees of 4 to 5 feet in diameter. The Harvester features a double-edged AR500 steel blade that keeps material close the throat for maximum shearing force. The Harvesters are offered in three different mounting configurations: direct pin-on, dedicated quick coupler and pin-grabber.
Cut and transport trees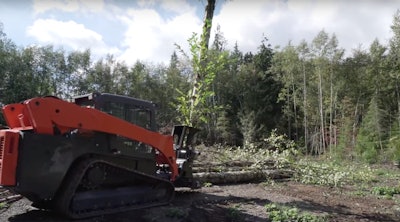 Not only does Dymax's new forestry grapple and tree shear cut through trees, but it enables the operator to remove and transport trees as well. The Timberwolf Forestry Grapple Tree Shear attachment for skid steers can cut through trees up to 14 inches in diameter. Dymax offers a Bunching Grapple model that has an accumulator arm for cutting and removing groups of trees simultaneously. The accumulator arm holds a sheared tree in place while the shear cuts through additional smaller trees. The attachment can handle soft and hardwood trees, the company says.
Cut through 9 inches of brush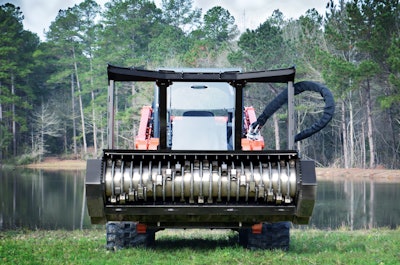 Diamond Mowers' 72-inch Skid Steer Drum Mulcher can continuously cut through trees and brush up to 9 inches in diameter. The attachment is designed for skid steers and compact track loaders with hydraulic flows of 32 to 45 gallons per minute. Its 41 hardened steel teeth are made for small to large mulching and brush management. Features on the mower include a two-speed variable displacement piston motor and anti-wrap plates to prevent material from gathering around the drum. A depth control ring lets the operator control the cut depth.