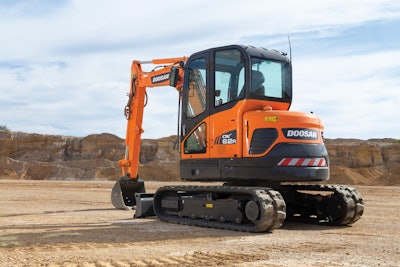 The reduced-tail-swing 59-horsepower DX62R-3 is the latest addition in the Doosan Infracore North America compact excavator lineup and was on display for the first time at the recent World of Concrete 2020 show.
"This is a sister to our DX63-3 conventional tail swing model," says says Aaron Kleingartner, Doosan Infracore North America marketing manager. "The dig depth and reach are virtually identical on the two machines, so it gives a contractor a choice between a conventional machine that has a little more lift capacity for craning materials or reduced tail swing for tighter areas."
With just 4.9 inches of side overhang, the 13,779-pound DX62R-3 allows users to work in confined areas with more flexibility to maneuver. The machine has a 13-foot, 6-inch maximum dig depth and maximum reach of 21 feet, 4 inches.
Doosan has also reconfigured its quick coupler hydraulic piping kit.
"We used to install it at the base of the boom, but now we install hard lines all the way to the base of the arm. It makes adding that option a lot easier," Kleingartner says.
The design of the DX62R-3 builds on the conventional machine by adjusting the positioning of the excavator upperstructure to the undercarriage to reduce tail swing length. Moving the swing center forward extends the machine's digging reach by 11 inches while maintaining the desired machine balance.
The unit has a 6.18 cubic-foot bucket capacity and an overall width of 6 feet, 6 inches.
Check out more photos below.