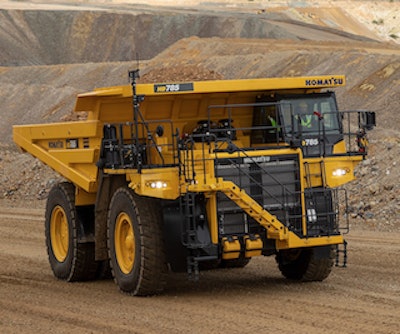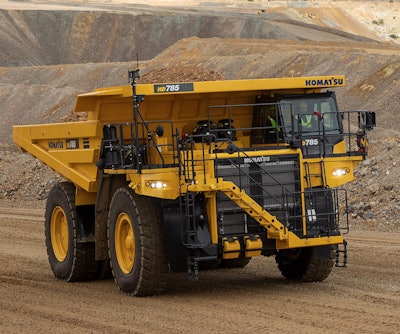 Komatsu touts the ability of its new HD785-8 rigid-frame truck to maneuver the jobsite, enhanced by such standard features as wet multiple disc brakes on all four wheels and automatic traction control.
The wet disc brakes are designed to improve downhill brake performance. Komatsu says the truck, made for mining, quarry and aggregates operations, also accelerates fast out of the pit.
It boasts a 101.6-ton payload capacity, and the company says the truck's 1,140 net horsepower is the best in its class. (To check out specs on rigid-frame trucks on the market and a host of other construction equipment, see Equipment World's 2019-2020 Spec Guide & Yearbook by clicking here. The page allows you to compare specs as well as obtain a printed copy of the spec guide.)
The HD785 comes standard with the Komatsu Traction Control System, which automatically applies pressure to independent brake assemblies for better traction in a variety of conditions, the company says. This eliminates the need for differential lock-up, allowing better steering performance.
Automatic Retard Speed Control maintains a set downhill travel speed instead of an engine rpm level, to let operators focus more on the haul road, the company says. The seven-speed transmission is fully automatic and features the Komatsu Advanced Transmission with Optimum Modulation Control System (K-ATOMiCS), designed for smooth clutch performance and ride and to reduce spillage of material being hauled. The truck also has two reverse speeds for the operator to select.
Another aid to maneuverability, the truck's turning radius is 33 feet 2 inches, which Komatsu says helps get into position for loading and dumping.
For the operator, the truck features KomVision with six cameras to give a bird's eye view of the work area. The screen view for the system is separate from the rearview camera monitor.
The cab includes an air-suspension, heated and ventilated seat, automatic climate control and heated rearview mirrors. The trainer seat has been upgraded. A diagonal stairway with handrails provides cab access, and there are access ladders on the right and left sides with gates and handrails.
The Tier 4 Final Komatsu engine uses dual diesel particulate filters and does not consume diesel exhaust fluid. Auto-idle shutdown reduces idle time, and an Auto Idle Setting System adjusts engine idle speed to coolant temperature to reduce machine warmup time.
Other features include an LED lighting package, anchored tie-off points around the truck and Komtrax Plus telematics. Service points are arranged for easier, ground-level access. These items have also been placed at ground level: battery isolator, starter isolator, machine immobilization switch and jumpstart receptacle.