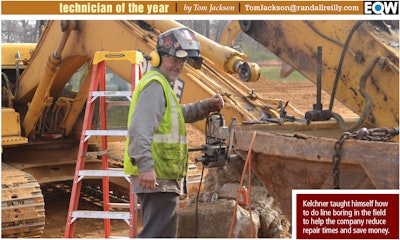 "I always had a lot of interest in mechanical things, even at an early age. I was curious about how things worked. If it had moving parts, I wanted to fix it," says John Kelchner, advanced level maintenance welder at Schlouch Incorporated, a diversified earthmoving, utility and site development company in Blandon, Pennsylvania.
"It is certainly not an easy occupation, but back in the late '70s and early '80s, it was a fairly attractive career, and it was a guy thing," he says.
This inherent interest in all things mechanical helped earn Kelchner the Association of Equipment Management Professionals' Technician of the Year award at the group's Equipment Shift conference in October.
Heavy welding
Kelchner's background is heavy on welding. He has worked in bridge construction as a foreman, done structural welding, certified welding, shear connectors, X-ray quality welding, and all-position welding. He also worked in a quarry, welding and repairing heavy equipment and fabricating parts.
At Schlouch, Kelchner continues to weld, but he's also involved in undercarriage rebuilds, cylinder work and other routine repairs. After 21 years at the company, Kelchner says its safety culture is one reason he's stayed. "There are no repercussions here if you stop and say, 'I don't think this is safe.' If you do, we stop, and we'll take a look at it."
"I have two sons who work here," he adds. "My oldest son is a site foreman, and my youngest works in the shop with me. So as a father, I know the dangers of this industry, and it is comforting to me knowing Schlouch's commitment to safety. I take safety a whole lot more seriously now than I did when I was younger."
The company's safety protocols extend to welding and fabrication as much as anything. "I use a positive-pressure ventilation system that is above and beyond compliance when welding or grinding dirty materials," Kelchner says. "To protect my coworkers from welding fumes, I use an air scrubber, which pulls out heavy metals, dust and harmful fumes."
Kelchner took two years of Vo-Ag training at Kutztown High School followed by three years of welding technology at Berks Vo-Tech. He has a Maryland state welding certification and numerous Caterpillar training and certification classes under his belt. With his OSHA 30-hour certification, he can stand in as the competent person in the shop or on the jobsite when supervisors are not present.
The welding doesn't stop when the day is done at Schlouch. "I create sculptures with discarded scrap, equipment parts and construction materials," says Kelchner. In the past two years, he has donated several pieces of art that raised over $2,500 at charity auctions.
Field and shop
While some companies struggle to manage differences between the field and the shop, Kelchner says, Schlouch is way ahead. "We've got a great bunch of people to work for here," he says. "Everyone has a common goal, and we've got a lot of support and cooperation from the field."
The variety of work also attracts him. "You don't feel like a robot here, and that's a big thing for me. One day I'll be in the shop, the next day I'll be in the field, so that helps break things up and makes the day go fast."
Schlouch, because of the diverse nature of its work, has a variety of equipment from most OEM brands, which Kelchner finds challenging and interesting. "I've fixed everything from a chainsaw to a twin-engine scraper."
Freedom to innovate
It also helps that the company gives this veteran technician plenty of latitude. "Management here has allowed me to try new things if I think it's for the greater good. And you know, it doesn't always work. Some of the best lessons you can learn are from failure, and here, they give you that freedom."
What few failures Kelchner may have experienced are vastly outnumbered by his successes. The company's confidence in its top welder has resulted in things like:
• Converting foot pedals in a machine to hand controls to accommodate an employee with an amputation.
• Creating specialty tooling for removing and installing off-road truck transmissions, leading to safer, faster and lower-cost repairs.
• Implementing a leaf-spring bushing replacement procedure on large road trucks to eliminate the need for spring removal, outsourcing and specialty tooling.
• Fabricating a tool for excavators to lift and place large concrete structures, saving hundreds of thousands of dollars in crane time and rentals.
• Engineering and building dump body supports to eliminate the use of wooden supports during service and repair operations.
• Extending the service life of loader couplers from 1,500 to 2,500 hours by machining precise tolerances and mating surfaces.
• Working with OEM dealers and engineers to improve designs and reduce failure rates on things like undercarriage clearance, bore failures and dozer blade skins.
• Using nondestructive, ultrasonic equipment to determine wear percentages and remaining service life on dozer blades, buckets, undercarriages, dump bodies and scraper bowls to better forecast repair times on these high-dollar items.
• Developing a safety inspection program for quick couplers.
One project Kelchner is particularly proud of is developing line-boring capabilities at the shop. "Not a lot of companies our size do line boring in-house," he says. With this capability, he can take out misalignments, improve precision, and true and restore worn bearing surfaces on pins and bushings and other moving parts. Doing this in-house saves substantial money, accelerates repair times and makes many of Kelchner's repair and fabrication projects possible.
GPS safety
One innovation Kelchner took the lead on at Schlouch was creating a safer way for the operations people to mount and dismount GPS receiver heads on their dozer blades. "We had guys who had to take a step ladder out to the dozers every morning," Kelchner says. "I thought the safety aspect of it was overlooked, so we decided to be proactive."
The modifications included grab rails, steps and platforms with anti-skid tape that were welded to the blade to create three points of contact. He also put protective sleeves over the mast arms to protect them from damage. "It all happened because we've got good communication with the field," Kelchner says.
Challenges
The biggest challenges he faces are wet weather and location changes, says Kelchner. "We have jobs spread out over a large area, and the shop is in one central location. So depending on the job, you can burn several hours a day getting to it and back."
"You get pressure from the field, but that's OK," he adds. "I'm aware of the cost of downtime and mobilization. So if I can do a repair in the field versus bringing it back to the shop, I will do it in the field, especially if it involves a permit move and all the cost and time that takes."
Teamwork
Although Kelchner possesses an array of skills, he's not a one-man wonder. He believes in being a team player.
"Effective, open and honest communication is actually listed in my job criteria," he says. "To do my job, I have to communicate daily with the service planner, shop foreman, site foreman and operations. I also communicate with the fleet coordinator on repair cost estimates and to make repair decisions. I understand that a lack of communication can have a negative impact on the repairs and costs."
Kelchner also leads some of the company's training sessions in winter after the work has slowed. That includes equipment-related safety training, as well as training field personnel on coupler safety, ground engaging tools and preventive maintenance. He's also led training for the maintenance crew on oxy-acetylene welding and grinding safety.
Next gen
When it comes to the next generation interested in a technician career or coming up the ranks, Kelchner's advice is simple: "Show up on time. Work hard. Take it seriously, especially the safety."
But his most emphatic advice is to do what he has done his whole life – never stop learning.
"Learn as much as you can about as much as you can," he says. "Most of what I learned was from hands-on and trial-and-error. But always take advantage of extra training. Even if it's after hours, even if you think you know the subject already, even if you think the training is repetitive, you can always take something away from it. I'm always fascinated by new little bits of information that I can pick up."