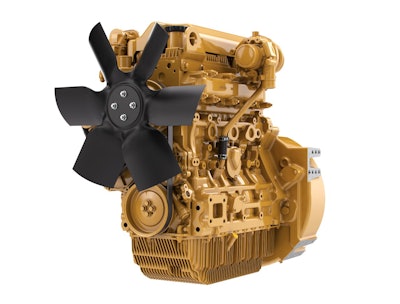 At a recent media event in Clayton, North Carolina, Caterpillar unveiled a new diesel engine in one of the most popular size classes.
The Cat C3.6 engine puts out from 74 to 134 horsepower and 406 lb-ft of torque while providing a 5 percent increase in power density and a 12 percent increase in torque compared to its predecessor engine, the Cat C3.4.
As with all off-road diesel engines in this horsepower band, the Cat C3.6 uses diesel exhaust fluid in an SCR emissions control system with a DPF, but the new engine consumes six to ten percent less DEF than the older model.
A direct injection fuel system and aftercooled turbocharger enable this engine to produce optimal performance in a wide range of conditions, says Adrian Hillman, sales manager. "The electronic waste gate turbocharger allows the engine to run where it needs to all the time," he says. "If you need to control boost pressures or you're at high altitudes or you have a high transient load, this allows intake pressures to be managed and enables the engine to run efficiently with minimal impact on operations."
Thermal management has also become a key design criterion for the new C3.6 engine, says Hillman. "Aftertreatments like heat. If you have to raise temperatures at lower rpms or lower loads, the newer engines will do that better without any interventions. It allows the engine to properly perform its regens in a variety of ranges."
Flexible installation
Given the large population of machines this engine size fits, Caterpillar also made several changes to improve installation ease and flexibility. The aftertreatment modules can be positioned in several locations. And the oil filter can be installed on the right or left side depending on what the customer requires. Oil filter mounting locations are also spacious enough to make oil filter changes simpler and less time consuming.
Additionally, the power take off has been moved to the flywheel housing. "There is a lot of space for anything you want to attach to it," says Hillman. You can put larger components on with less interference. Things like auxiliary hydraulic pumps or air compressors will be much easier to install."
Another change: a composite oil pan stiffens the block to reduce decibels about 3dB, making the engine and machine quieter.
The Cat C3.6 is dual certified Tier 4 Final and Stage V with no changes to the engine or aftertreatment. It is currently in production at Caterpillar's facility in Peterborough, England.