Apparently setting one world record in 2019 wasn't enough for the folks at JCB. Following record-breaking runs in June that made the JCB Fastrac the world's fastest tractor, the team has managed another series of test track runs that have left the previous record in tatters.
At the core of the modified tractors making these insane runs is a JCB 8000-series Fastrac tractor. Unmodified, these tractors are capable of a top speed of 43 mph.
The Fastrac team at JCB took that production model and equipped it a 7.2-liter, 6-cylinder JCB DieselMax engine which delivers 1,016 horsepower and more than 1,844 lb-ft of torque. They also worked with Williams Advanced Engineering which provided enhanced aerodynamics for the tractor's exterior design.
In June, the Fastrac One achieved an average maximum speed of 103 mph. Amped up by the achievement, the team at JCB went back to the drawing board to see if they could tweak the Fastrac design to achieve a top speed of 150 mph.
"When we reached 103.6 mph with the Fastrac in the summer, I was convinced we could go even faster, and the JCB team has risen to the challenge by setting this new record. It's an amazing achievement delivered by a young and enthusiastic engineering team. Everyone involved should be very proud of the part they have played in showing off JCB engineering at its very best," JCB Chairman Anthony Bamford says.
For the Fastrac Two, JCB engineers made the tractor 10 percent lighter and made the design more streamlined. Much of the weight shed in the new design was in the chassis which JCB worked with GKN Wheels & Structures to develop. GKN says JCB provided the initial design which was based on the standard tractor chassis that GKN has been supplying JCB with since 2011. However, the modified version provided a much lower center of gravity. GKN then took that design and continued to make tweaks for additional weight savings, ultimately giving JCB a chassis for the Fastrac Two that was 25 percent lighter than a standard production chassis.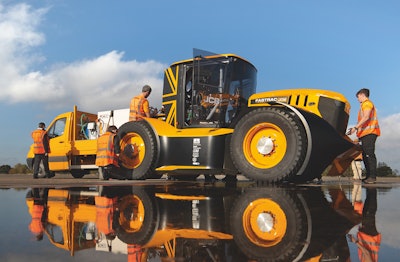 GKN says because "the unique design could not be built on the company's usual tooling, the chassis was manufactured in GKN Structures' dedicated prototype facility, with every part having to be hand set and tacked prior to welding by hand."
With these improvements the Fastrac Two set the new world record for tractor top speed of 135 mph, beating JCB's previous record by more than 30 mph. However, that official figure is only the average of two runs. In the course of setting the record, the tractor did accomplish the team's goal of breaking 150 mph. During one run the tractor hit a top speed of 153.7 mph.
"This has been a massive undertaking … so thank you very much to JCB and its engineering team, who got this tractor absolutely spot-on," says British motorsports personality, Guy Martin, who piloted both JCB record attempts. "Just look at it, they get stuff done, it's brilliant, and it is still a working tractor, so could have gone straight into the nearest field to put in a shift."
"Fastrac One really proved to us that there are no limits to what a young and dynamic engineering team can achieve. So, we pushed boundaries and ideas, and looked at all aspects of the project to find solutions and make improvements," says JCB chief innovation and growth officer, Tim Burnhope. "The biggest challenges have included aerodynamics, reducing weight and improving performance. Getting a five-tonne (11,000 lb) tractor to safely reach 150 mph, and stop again, is not an easy task, but we're all so proud to have not only reached these goals but to have exceeded them."