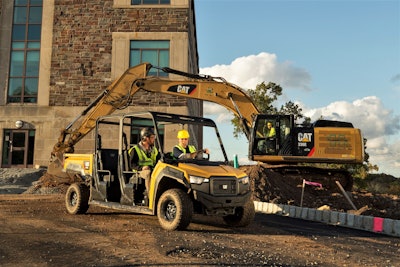 This year's ICUEE will host a new demo area for those wanting to test out the latest UTVs.
Attendees can compare UTV models from Caterpillar, Bobcat and John Deere at the test track. The 80,000-square-foot area will also have UTV models on display.
This year's show will also have a new live concert in the downtown Louisville Fourth Street Live! dining and entertainment complex. The free concert at 7 p.m. October 2 will feature The Crashers & Soul Circus and is designed to be a networking event for ICUEE attendees.
Other new features at ICUEE, to be held October 1-3 at the Kentucky Exposition Center in Louisville:
Disaster-simulation labs with Desi Matel-Anderson, FEMA's former chief innovation officer.
Field classrooms with instructors providing hands-on instruction with equipment on the show floor.
Eat and Learn workshops – Tuesday lunch and Wednesday breakfast and lunch.
Emerging Technologies Pavilion – joins expanded Safety and Fleet Management exhibit pavilions on the indoor show floor.
Food Court Patio area – located between the Above Ground Demo Lot (Area L) and the Lift & Haul Demo Lot (Area N).
The closing Bourbon, Beer & Bites networking reception for all attendees offers complimentary tastings of the food and beverages of Louisville on October 3 from 2 to 3:30 p.m. in the Kentucky Exposition Center's North Lobby.
ICUEE 2019 will span more than 30 acres with more than 240 product categories and more than 200 new exhibitors, according to organizers.
Those registering for ICUEE before August 23 will save 50 percent on tickets. For show details and to register online go to icuee.com.