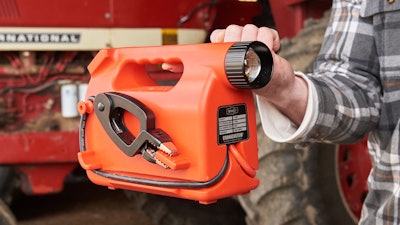 Aside from its cool name, the Crankenstein from Weego provides a light, portable jumpstarter to charge everything from cellphones to construction equipment.
The Crankenstein Jump Starting 12V/24V Power Pack weighs 9 pounds and can jumpstart dead batteries on light and heavy-duty equipment. It provides 1,200 cranking amps and 5,000 peak amps for 12-volt systems, and 600 cranking amps and 5,000 peak amps for 24-volt systems, the company says.
The battery is rated to 2,000 life cycles and will hold a charge for over a year, according to Weego.
The Crankenstein can be charged in six hours, either by a standard AC wall outlet or a USB-C DC charger. It also is equipped with two USB-A ports for fast charge, a USB-C port for phones and tablets, and a 12V/15A CLA port for power inverters and other 12-volt equipped tools and gear.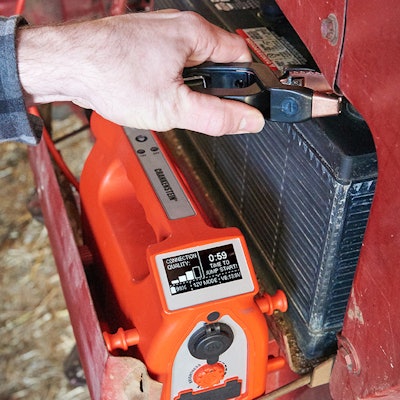 Each Crankenstein comes with a USB-C 15V/2.4A wall charger, a 12V DC USB-C car charger, a 40-inch charging cable and storage bag.
Along with powerful charging ability, the Crankenstein features an OLED (organic light-emitting diode) screen to guide you through the jumpstart process and deliver warning messages, and a 1,000-lumen LED work light that can run 15 hours on one charge.
It also has a built-in voltmeter, and "Connection Detection" to achieve the best battery connection. The Crankenstein works in temperatures as low as -28 degrees and as high as 140 degrees Fahrenheit, the company says.
For safety, Weego added such protection features as reverse polarity, anti-spark, over-current and over-discharge detection. It is rated IP65 for water, dust and dirt resistance. It can be purchased at myweegopro.com for $699.