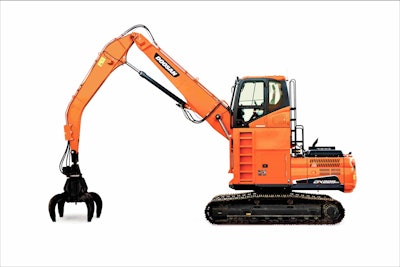 Unveiled at the same media event as the new DA30-5 articulated dump truck was a new Doosan material handler with a steel track undercarriage.
The DX225MH-5 material handler is factory fitted with cab risers for increased visibility. Four-foot risers are standard, six-foot optional. The material handler's straight boom improves reach and lift height for better material placement. Droop nose arms provide enhanced grapple and magnet access into containers, trucks and railcars. Dual-boom cylinders and under-mount arm cylinder placement provide the heavy lifting capacity.
Floor pedals add an optional way for operators to activate two-way auxiliary hydraulics and an ergonomic joystick improves operator comfort and ease of use. The rear camera enhances visibility, and the camera monitor allows operators to see machine information while camera is on.
The DX225MH-5 puts out 162 horsepower with a swing torque of 60,757 foot-pounds and a drawbar pull of 60,715 foot-pounds. Operating weight is 60,848 pounds and the maximum loading reach measures 35 feet, 5 inches. Max loading height is 40 feet.
Additional options include V-Shape side guard for extra protection to the doors and exterior and a generator set for use with a power magnet such as a Winkle magnet.