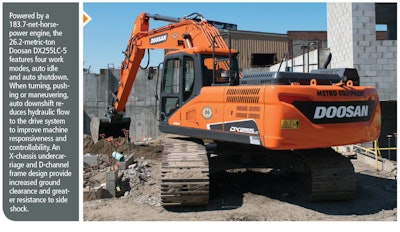 After years of steady technological gains, the past two years have seen an explosion of tech features on mid-sized excavators (20 to 45 metric ton). We asked manufacturers to provide insights on their most recent and significant technologies.
Case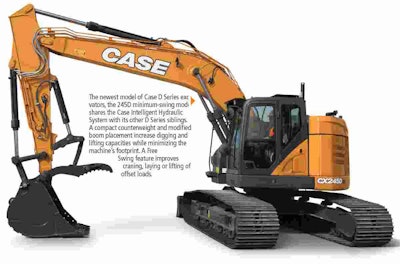 Case D Series excavators feature the company's Intelligent Hydraulic System with four integrated control systems working together to optimize performance. Andrew Dargatz, brand marketing manager, provides this overview of the feature: "The system actively manages and controls hydraulic power throughout the production cycle to maximize speed and efficiency while reducing fuel consumption by minimizing unnecessary hydraulic flow." Playing supporting roles to the Intelligent Hydraulic System are a new electronically controlled pump, larger control valve and new sensors. Hardware improvements include a more robust boom and track and undercarriage design.
Four systems are involved in Intelligent Hydraulic Control. Boom Economy Control drops engine speed and uses gravity during boom down and swing. Auto Economy Control lowers engine rpm after controls are in a neutral state for 10 seconds and will do an auto shutdown, when enabled, after a preset idle period. Swing Relief Control regulates pump flow at the onset of the swing cycle. Spool Stroke Control monitors operator inputs and adjusts flow during dig cycles to optimize machine performance.
The sum of the parts is shorter cycle times, less rework, fewer overcorrections, greater precision for lift and placement, higher breakout forces and improvements in fuel economy of up to 14 percent.
Caterpillar
Caterpillar has been getting a lot of attention for their new excavators, and rightfully so. When they introduced the 320 GC, 320 and 323 models last year, it had been 25 years since the last major redesign of the product – that would be 1992 – and they pulled out all the stops this time. Specifically, these three Next Generation models were built for digital connectivity, ease of use and semi-automated functionality.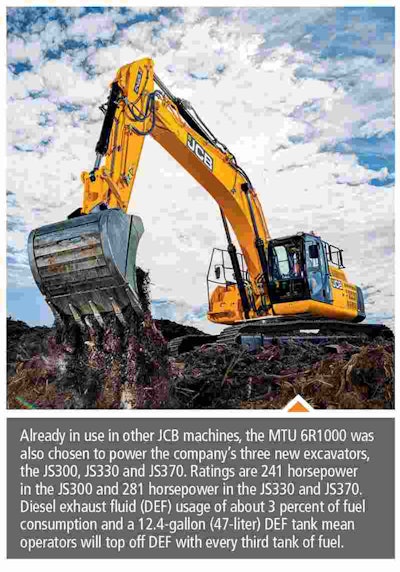 Standard technology on the 320 GC includes Product Link Pro and a rear camera. Standard on the 320 and 323 are Product Link Elite, rear camera, Cat Grade with 2D, 2D E-Fence, Cat Grade with Assist and Cat Payload. Cat Grade 2D Advanced/3D is an available option on the 320 and 323. Many of the tech features pair with smartphones to enable such capabilities as remote start, remote diagnostics and machine locator.
Cat places each of the three new models on a scatter plot with "monthly working hours" on the X axis and "monthly fuel burn" (G/H, Working) on the Y axis. The 320 GC, designed for low- to medium-duty applications, is in the lower left, the medium-to-heavy duty 320 in the middle, and the production-focused 323 in the upper right.
The net effect is big gains in several categories: up to 45 percent increased efficiency, up to 25 percent reduced fuel consumption and up to 15 percent lower maintenance costs.
Doosan
Smart Power Control (SPC) is the feature cited by Aaron Kleingartner, marketing manager, Doosan Infracore North America. SPC was designed during the development of dash-5 Tier 4 Doosan excavators to reduce fuel consumption up to 7 percent. SPC monitors demand, and when demand is low, such as during the swing portion of a dig cycle, SPC lowers engine speed.
SPC is the third iteration of technology designed to reduce fuel consumption. Each refinement builds on the previous program. The first was introduced in Tier 3 machines, the second in Tier 4 Interim models, and now this third package comes on the current dash-5 models.
Each of the four power modes will function with SPC on or off; SPC is active only in the digging work mode. Operators will likely just leave SPC on except during lifting. At those times, operators will want the greater precision and control afforded by the traditional means of running the engine at a constant speed while using the hydraulic system to modulate lifting performance.
Gradall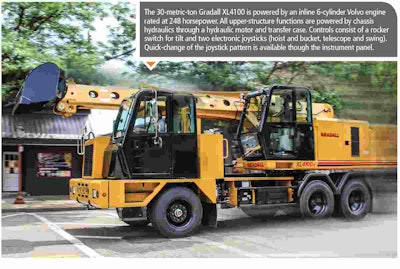 "Because they have fewer resources, it takes longer for small-volume OEMs to design, develop and implement new technological features," says Mike Popovic, vice president, excavators, Gradall, about the company's last big tech splash two years ago: the debut of the highway-speed Discovery crossover. But it was indeed a big splash
with several advanced features, most notably remote drive. With it, the operator can driv
e the truck from the cab of the excavator. Speed is limited to 5 mph forward and reverse. Positioning the machine from the cab improves the typical applications for Gradall excavators such as ditch cleaning, roadside vegetation control and culvert replacement. Features of the 15-ton Discovery, including remote drive, will make their way to larger models in the future, says Popovic.
The most exciting technology on the Gradall horizon is cloud-based BODAS. The Bosch Rexroth BODAS software package offers multiple to
ols to OEMs, including the ability to configure hydraulic system functionality and performance. But it's always been a device-based system requiring that the laptop on which it's installed be physically present with the machine it's configuring. The ability to perform those configurations and apply updates remotely is advantageous for a smaller manufacturer with machines widely scattered, such as Gradall.
Hyundai
"At Hyundai, we've put a high priority on our monitor and control technologies," says Michael Fuller, product and training specialist, Hyundai Construction Equipment Americas. "You can see the results in a variety of systems and components." The monitor now includes an inclinometer to indicate machine level condition in real time. Much of the information displayed is centered on monitoring fuel use: average and total fuel consumption, hourly a
nd daily fuel consumption on a historical basis, and an ECO gauge that shows fuel consumption in real time.
Hyundai's enhanced hydraulic controls include Attachment Flow Control, giving operators independent control of two pumps. Flow rate settings can be
stored for up to 10 breaker (two-way) and 10 crusher (one-way) attachments. Operators can select one of three hydraulic power modes from the monitor. Speed mode gives maximum speed and power for heavy work. Balance mode optimizes performance and fuel efficiency for general work. Efficiency mode provides maximum control and efficiency for light work.
John Deere and Hitachi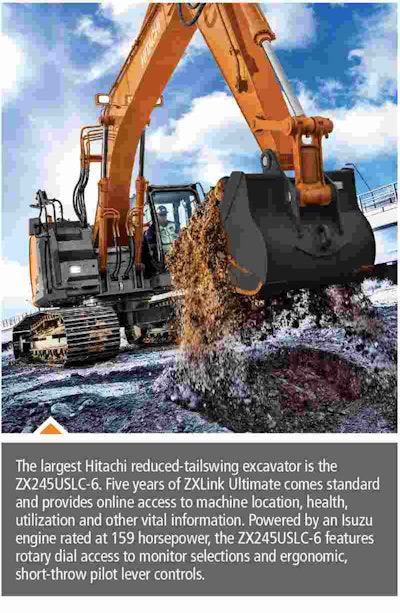 David Young, product marketing manager, excavators, North and South America with John Deere and Hitachi, calls attention to the three-pump system on the 245G LC and ZX245USLC-6. The third pump is assigned to swing function. "Swing cannibalizes the hydraulics on two-pump systems and can become the limiting factor in performance, especially if the machine is on a grade or slope." Both are 25-metric ton, reduced-tailswing machines; 30-ton models will launch in April.
Information integration and sharing are making great strides, according to Andrew Kahler, product marketing manager, John Deere WorkSight. JDLink (Deere) and ZXLink (Hitachi) run on a 4G LTE cellular network. The current system has more memory and more power and has both Bluetooth and Wi-Fi to enable communication with multiple devices and platforms. Because there has been no standard communication protocol for telematics data, custome
rs have had to gather information from machines by brand and then manually integrate the results, a practice known as "portal hopping." Data are now sent via an application program interface (API) to data integrators so
information from a mixed fleet can be viewed in a single portal.
Information management and maintenance of information hardware are generally within the capabilities of most customers, says Kahler. Machine-specific information can also be shared with dealers to help coordinate PM and repair. Data from equipment running across North America are aggregated and analyzed at Deere's facility in Dubuque, Iowa, to look for trends and allow the OEM to be proactive in resolving issues and improving machine performance.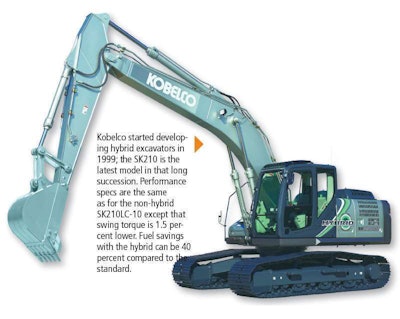 Kobelco
Kobelco is working with Trimble to develop technol
ogies for use with excavators. One result is the choice of Grade Assist (an indicate system) and 2D and 3D machine control. That much is fairly standard in the industry. What makes the Kobelco/Trimble design unique is the use of gyroscopic sensors instead of in-cylinder sensors and surface-mounted position sensors. These gyroscopic senso
rs are similar to those used in aircraft and in the vehicle stability control systems of passenger vehicles. Anti-collision devices relying on proximity sensors are in the works and will be released soon.
Kobelco's hybrid SK210HLC-10 uses lithium-ion batteries to drive the swing motor. Dave Donneral, specialized machine sales manager, Kobelco, says fuel savings are enough to sell hybrids in other markets where fuel costs are much higher than in North America. "Domestic customers also want better fuel economy and lower environmental impact, but they won't give up performance or production or pay a hefty premium to obtain those benefits, so we built the SK210HLC-10 just for North America."
Compared to the non-hybrid SK210-10, the SK210HLC-10 provides fuel savings of up to 40 percent and a reduction in CO2 of up to 40 percent. But compared to the SK210-9, the hybrid also offers up to 15 percent greater productivity and more than 27 percent greater efficiency. (All comparisons using H, or hydraulic mode.)
Komatsu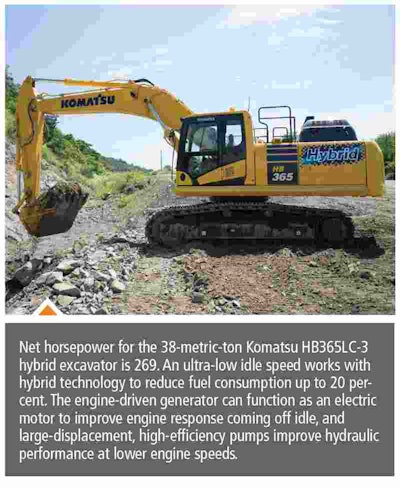 Komvision is Komatsu's name for its bird's-eye-view option. A rearview camera is standard; Komvision adds two or three cameras and stitches together multiple views for that overhead perspective. The option is available on new excavators but is not backward-compatible with older ones.
Justin Lantin, product marketing manager, excavators, says Komatsu now offers two hybrid models. The company took the technology from the HB215LC-1 and applied it to the new HB365LC-3. The system offers the benefits common to hybrids (see sidebar on page 25) as well as other benefits operators appreciate. Swing speed is more easily controlled. And because hydraulics are not employed for the swing motion, hydraulic functions in use during swing stay more consistent and predictable. The design also boosts the total output of the diesel engine by coupling the engine and the motor together, conceptually similar to how many hybrid passenger vehicles work.
Ron Schwieters, product manager, Komatsu, says the company's approach is unique in that it uses externally mounted cylinder sensors on the boom, stick and bucket. These are position sensors; there are IMUs in place in other locations on the machine. Compared to other designs using internal sensors, he says, Komatsu's approach yields faster sensor response times and components that are easier to maintain. Schwieters says their system stores the entire bucket profile, not just the teeth. The semi-automatic system is active only when the bucket or other attachment is in contact with the design surface. Even when the semi-automatic is running, the operator runs the excavator as usual. The performance of the system enables the intelligent excavator to complete tasks that, in the past, would have required a dozer and excavator working together. Because the intelligent excavator can do much of what a dozer has done in the past, that dozer can now work in other areas of the project or on another project.
Volvo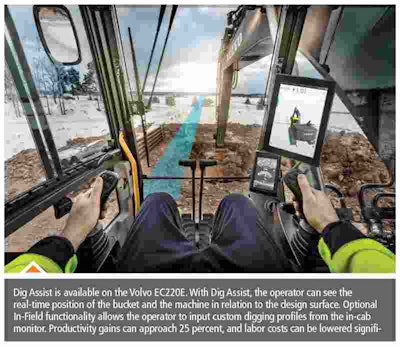 Dig Assist is a new feature available on the Volvo EC220E. Product Manager Matthew McLean describes Dig Assist as "an intuitive control system allowing easy input of job specifications and tracking of progress along the way." One goal, says McLean, is to ensure the job is done right the first time. Another is to reduce some site prep, such as staking, by up to 50 percent. Overall, Dig Assist can provide up to 25 percent productivity gains. With optional In-Field Design functionality, operators can draw custom digging profiles to their Dig Assist plans from the cab.
Side- and rear-view cameras have been standard on Volvo excavators since 2016. Smart View, which uses three cameras to provide a birds-eye view of the machine, is now available. If the machine is equipped with Dig Assist, the operator can leave the Smart View display on the main monitor or cast it to the larger Co-Pilot display used by Dig Assist.
Volvo will roll out Comfort Drive Control joystick steering on wheeled excavators. Joystick steering can function in addition to steering-wheel operation; for machines not driven on the road, the entire steering column can be removed to enhance an operator's view of the worksite. With Comfort Drive Control, outrigger and blade control are also on the joystick rather than on a separate lever. Operators can use both controls without letting go of the stick.