Gather rocks and debris, allow soil to sift through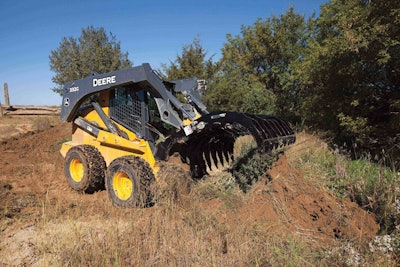 John Deere has introduced a new line of Root Rakes, which include models RR72, RR78 and RR84. Optimized to work with John Deere G- and E-Series skid steers and compact track loaders and K-Series compact wheel loaders, the attachments are designed for land clearing, ground leveling and moving materials away from buildings and obstructions. The rakes gather rocks and debris while allowing soil to sift through, for minimal site and landscape disturbance. Built with alloy-steel construction, the units have replaceable pin-on teeth and zinc-plated pivot pins with protected zerks. A weld-on "D" ring expands the attachment's capabilities, including pulling brush in forestry applications or move scrap on a jobsite. Available in 72-inch, 78-inch and 84-inch widths, the rakes help shield the front of the host machine, protecting it against damage from large piles of brush or jagged scrap.
Rip through hard and soft woods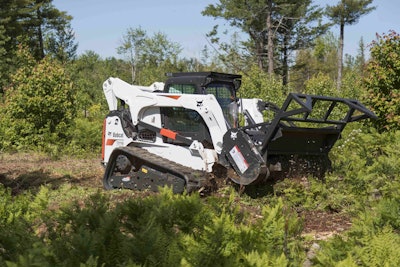 The Bobcat 70-inch forestry cutter gives users the ability to easily rip through hard and soft woods; it fits on the Bobcat T750, T770 and T870 compact track loaders and S850 skid steer. With the addition of a 400-pound counterweight, the cutter can be used with Bobcat's T750 and T770 compact track loaders. Requiring high-flow hydraulics, the attachment can be tilted forward, throwing the material against the counter combs that reduce the wood to a fine mulch. An optional front gate can be lowered if the operator needs finer mulch. The tube-style drum and spiral tooth pattern allow one tooth to engage at a time for a smoother operation that requires less horsepower. The cutter comes standard with two-speed travel for increased drum torque and improved productivity. An adjustable three-position push bar accommodates an operator's preferred setting.
Remove unwanted debris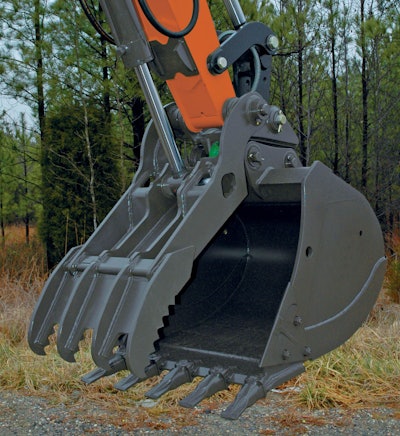 Doosan offers hydraulic clamps for crawler and wheel excavators that allow users to precisely pick and place material or remove unwanted debris for landclearing applications. The clamp edges keep objects secure for loading and material handling. Easily installed on the excavator dipper, the clamp has a heavy duty cylinder and a load holding valve that helps prevent spillage. The base plate may be welded on without removing the main pin. The clamps can be used with the Doosan DX140LC-5 through DX300LC-5 crawler excavators and the DX140W-5 through DX210W-5 wheel excavators.
Cut though rough-cut dense brush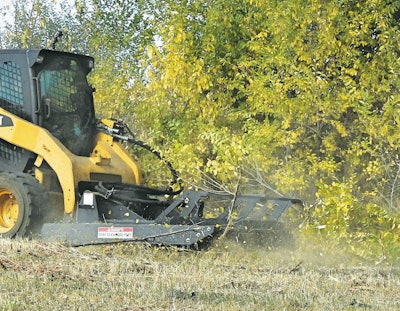 Designed to cut through rough-cut dense brush, Virnig's V50 rotary brush cutter clears trees up to 6 inches in diameter. The three-way cutting system, mounted to a flywheel, ensures the flywheel bounces off stumps rather than catching and damaging components. The 1/4-inch reinforced mower deck is made from Grade 50 steel. Attaching to skid steers, the attachment uses standard dual hydraulic pressure relief valves with dynamic breaking that stops the 275-pound flywheel in under 10 seconds. Double-sided 5/8- by 5-inch blades can be flipped over to use a second set of sharpened edges. The cutter is available in 60- to 78-inch cut widths, with a recommended flow rate of 14 to 42 gpm.
Match cutting speed to conditions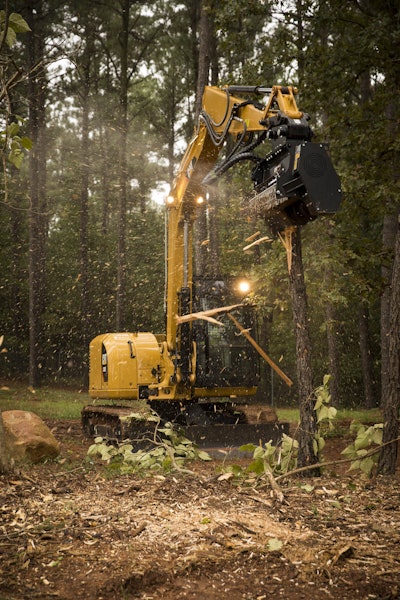 Caterpillar's HM208 and HM210 mulchers, along with its HMF110 and HMF210 flail mowers both expand the manufacturer's land management offerings for compact excavators. The mulchers are available in widths of 32 inches or 40 inches. The units include a dual hydraulic door design to minimize debris throw and improve material refinement. A staggered tooth design with reversible blade style teeth provide longer wear life.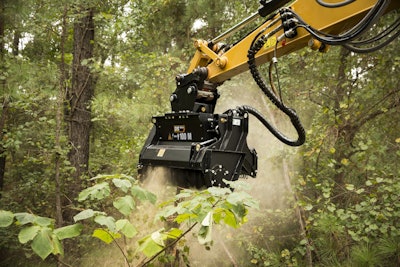 The mulchers have an automatic two-speed piston motor that helps match cutting speed to conditions, and allows for multi-function capability. The flail mowers have swinging teeth with two tooth styles available, as well as serrated cavity knives to help cut and break down material. Available in a 40-inch width, the attachment can fit on 5- and 8-ton compact excavators.
Efficiently move irregular shapes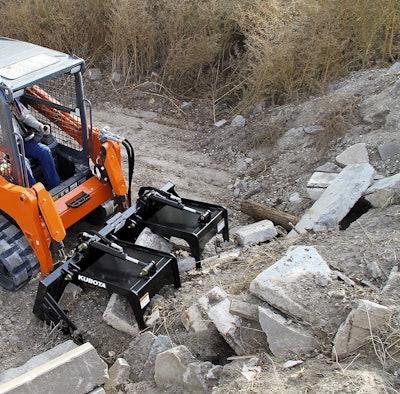 Kubota's Rock Grapples are designed to efficiently move volumes of materials. The attachment has dual hydraulic cylinders that can close at various gaps to handle irregular shapes. The bucket is designed with 3-inch spacing between the teeth to allow small rocks, soil and other debris to be sifted, leaving larger material locked in its jaws. The grapples are available in 66-, 72- and 78-inch widths and can fit on skid steers and compact track loaders.
Handle a variety of materials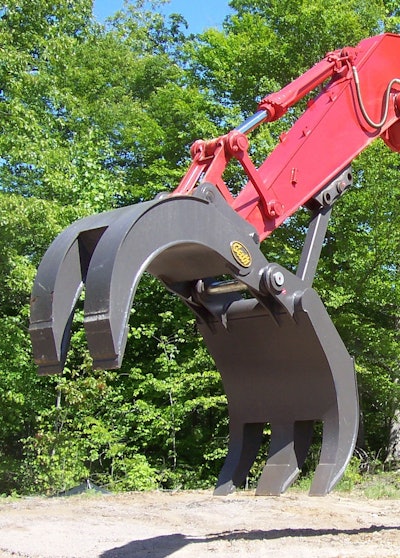 The Geith Grapple handles a variety of materials in landclearing applications. Made with abrasion-resistant, high-tensile strength, the tines are boxed for increased strength. The main hinges have replaceable bearings, and the pins are protected by O-rings that keep the grease in and the dirt out. The grapples can be fitted with an optional wear package.
Till soil and break up rocks
The Seppi Midisoil dt mulcher is designed for 100- to 170-horsepower tractors and comes in several working widths ranging from 69 to 98 inches. The mulcher tills the soil and breaks stones to a depth of 10 inches, and has a working speed of 0 to 1.2 mph. The unit has a 2-speed transmission gearbox, which makes it possible to use a higher speed of the rotor shaft for wood and a slower speed for rocks and soil. By switching a main transmission lever, the operator can change the speed from 1,000 rpm to 500 rpm, providing more torque at less consumption of power.