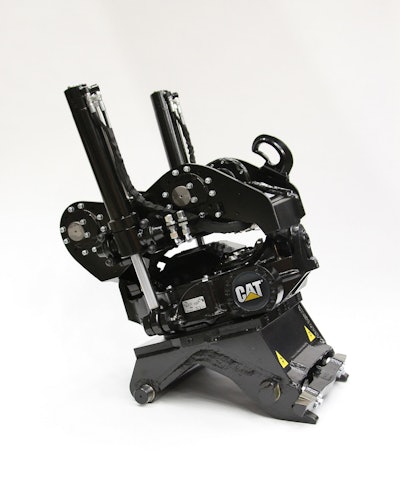 Caterpillar has introduced a tiltrotator as an available option for its wheeled excavator models up to 30 tons, including the recently announced M315F and M317F.
The tiltrotator allows the excavator bucket to rotate 360 degrees and tilt 40-degrees side to side. This added maneuverability allows the operator to reach more work areas from one position, Cat says, saving time and fuel usually spent on repositioning the machine in order to work around posts, rocks and other obstacles.
Used across a variety of applications, Cat's tiltrotator features SecureLock, a feature that confirms when a work tool is coupled correctly to the machine and alerts the operator if a secure connection is not established. The tiltrotator also features auto calibration and auto troubleshooting/reconection thanks to integrated sensors.
Cat offers an optional positioning system for the tiltrotator that connects to third-party machine control systems in order to track the position of the tool and display it on the in-cab monitor. A connection for high-slow work tools is also available.