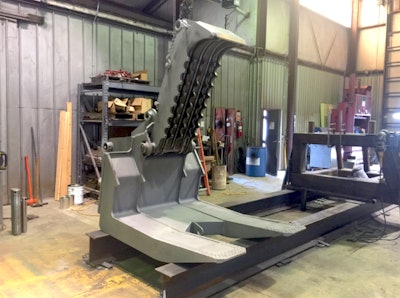 Daniel Manufacturing, an Illinois-based custom attachment firm, offers a six-model lineup of what it calls "beaks," a unique attachment type that offers a fork/grapple design.
The largest is known as the Mega Beak and is designed to fit excavators between 16 and 40 metric tons, featuring a 57-inch jaw opening and weighing in at 2,280 pounds.
But the company recently received a request from a commercial demolition contractor for an even larger beak. So, the folks at Daniel came up with their largest beak ever, the Mega Beak 200. Weighing 5,100 pounds with a jaw opening of 73 inches, this beast is 50 percent larger than the Mega Beak and features five sets of teeth to increase grabbing power.
You can check out a video of the smaller Mega Beak below. While they're ideal for demolition and concrete tear outs, these attachments are quite versatile and can also be used for large scale land clearing jobs.