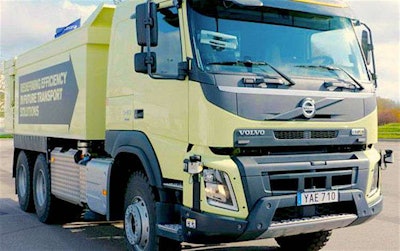 Though in development for some time, Volvo recently decided to give us all a peek behind its R&D curtain, sharing details on an autonomous truck the company is testing for use in the mining industry.
The company says this self-driving truck, an FMX model based on the picture the company has shared, is capable of navigating fixed and movable obstacles both above and underground.
Unlike trucks from Freightliner and Peterbilt, which have autonomous modes but require a driver behind the wheel during operation, Volvo says this FMX requires no manual supervision, using sensors and GPS to continuously "read its surroundings."
Volvo says the truck has been developed through a cooperative research project with Saab under a consulting company called Combitech. The primary focus of the project seems to be removing the driver completely from trucks involved in dangerous transport applications.
"Automation is an exciting field of technology where advances are moving quickly. Solutions already exist and we expect to see more autonomous solutions in the future. But our customers are already benefiting from this technology today since we apply the same principles to our active safety systems," said Martin Lundstedt, president and CEO of Volvo, in a statement.