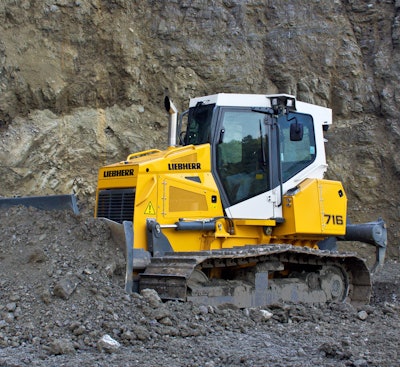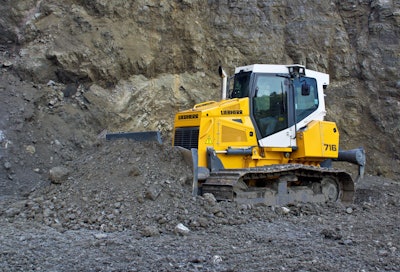 Liebherr always has a massive home turf presence at the Bauma show in Germany, and this year's show was no exception, with the company showcasing more than 60 machines in than 150,000-square-feet-plus of exhibit space.
Among the equipment at the show expected to come to North American shores were the new PR 716 dozer and an updated quick coupler for excavators.
PR 716
Succeeding the PR 714, the 126-horsepower PR 716 dozer has an operating weight ranging from 29,101 to 33,510 pounds. Powered by a 4-cylinder Liebherr engine, the "generation 6" machine uses SCR technology that does not require a DPF.
The electronic drive management system has an ECO mode setting that can be used in light and medium-duty applications. When the machine encounters heavy material, a proactive power control kicks in, temporarily increasing engine power.
The machine's universal 6-way blade can be equipped with optional hinged corners, giving the dozer more transportation flexibility. Customers can choose between an XL and LGP undercarriage. An optional free-turning bushings swivel running gear is designed for sandy or soft underfoot conditions.
The PR 716 cab uses several features of larger generation 6 machines, including the T-shaped control for travel and working hydraulics and a touch screen display.
Excavator quick coupler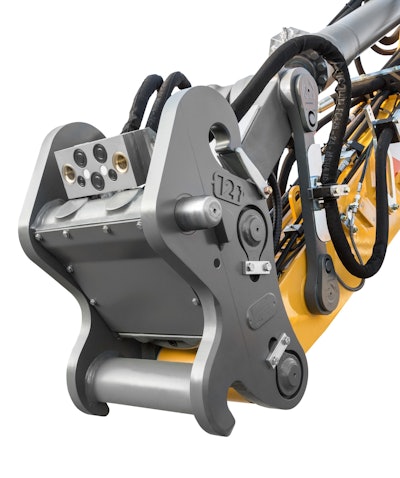 Liebherr has added a second proximity sensor to its hydraulic quick couplers, and will make it standard on all hydraulic couplers sold this year.
In addition to the first proximity sensor, which determines the position of the retracted or extended bolt and sends a warning buzzer to the in-cab display, the second proximity sensor will issue a warning tone if the bolts are extended, and yet the attachment is not connected to the quick coupler. A yellow warning signal will also appear on the display.
If you want to move the excavator without an attachment, you can mute the warning tone after four intervals, although the visual warning still remains active. After the quick coupler is operated again, the muting is automatically deactivated, reactivating the signal tone.