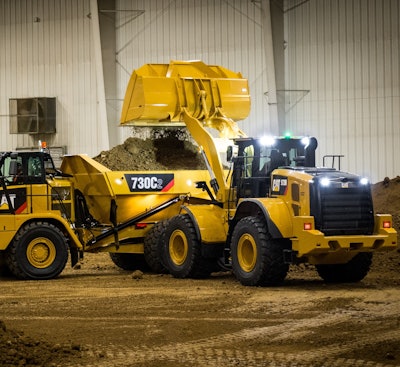 Caterpillar has updated its entire M Series medium wheel loader lineup for 2016 with engine, technology, durability and safety upgrades.
The M Series medium wheel loader lineup consists of the 950M, 962M, 966M, 972M, 982M, 966M XE and 972M XE. The M Series was unveiled in 2013 and went on sale in 2014. Since then, Cat says it has been developing upgrades for the machines based on three areas of customer feedback:
1. Reduced operating cost
2. Optimized site efficiency through Cat Connect technology
3. Additional safety features
Before we get into each of those areas, we'll get some baseline features out of the way. Each M Series loader is powered by a Cat 9.3 ACERT engine. Though no specific numbers were given, Cat says engine power has been increased on the new models. The machines also come standard with a lock-up clutch torque converter.
Reduced operating cost
When taking us around these new machines among the first things Cat product managers pointed out were the new hood and front fenders.
The new hood is made using Rapid Injection Molding, a process that has increased scratch and impact resistance. Plus, the new hood features an improved actuator that has cut opening times nearly in half: just 35 seconds compared to one minute on the previous M Series machines.
The hood design also improves cooling airflow to the engine and enhances the operator's rear visibility. Impact and corrosion-resistant, hood-mounted rear roading fenders are an available option.
Moving on to the new fenders, they're impact and scratch resistant and—unlike the previous fenders—won't corrode. Cat also now offers fender packages for low-profile tires which in addition to fully covering those tires, also provide lateral and fore-aft stability.
On the two XE M Series models, Cat has included a new Economy Mode that boosts fuel economy by 4 percent during general operation, all the way up to 8 percent in "aggressive" truck-loading applications—and all with no loss in production. Cat notes that this ECO mode, which lowers engine speed to 1,400 rpm when full power is not required, is basically a bonus on top of these XE models' already low fuel usage. (Cat says fuel consumption is up to 25 percent lower on XE models compared to comparable torque-converter-equipped models.)
A feature previously found only on the XE models, Cat has expanded availability of the variable ground-speed limiter to all M Series medium wheel loaders. VGSL allows site managers to set a password-protected speed limit between 9 and 25 mph on each machine with independent adjustments for forward and reverse. In addition to saving fuel, this feature is a handy way for fleet managers to reduce noise and transmission wear.
Efficiency
Cat now offers Product Link Elite standard on the M Series machines with faster cellular and satellite connection. Plus, all of the machines now come factory ready to accept the Cat Production Measurement system. And with the 966 through the 982 you get free access to the service for the first 250 hours to try it out.
The latest version of CPM is 1.2 which features the following improvements:
Better interface with easier navigation of truck and material ID lists
Indicates when linkage is in weighing range for confirming accurate called weight
Manual activation of the tip-off feature for applications when Auto Tip-Off detection isn't ideal
Allows use of multiple buckets by zeroing up to 66.5 percent of the original calibration weight (was less than 15 percent)
Third-party scale systems can be shown on cab touch screen along with VisionLink
Safety
The 2016 update also brings a standard rear object detection system which displays obstacles up to 52 feet behind the machine on the main display. The system can also detect how quickly the machine is approaching an object and can trigger a five-level alarm system in the cab that includes lights and an audible alarm the closer you approach the object.
Cat has also included new steps on these machines which the company says are 11 times stronger than the previous generation steps and are self-cleaning.
Replacing the auxiliary halogen light option, four or eight LED lights are now available at the front and rear of the machine along with two in the rear hood. Four halogen lights come standard.
Wheel chocks are another available safety option and are mounted to the front frame of the machine to reduce the possibility of the machine rolling over.
Other safety enhancements include a redesign of the right window for faster emergency exits, repositioning grab rails and a new grab handle below the membrane switch pad while driving over rough terrain.