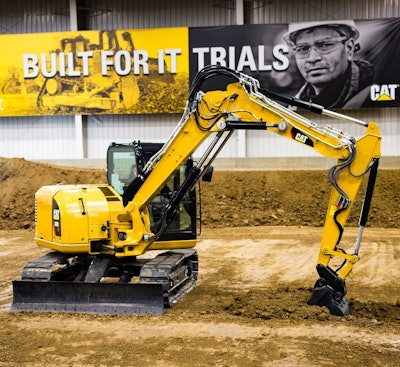 Thanks to a variable angle boom design, Caterpillar's new 308E2 VAB is more capable when digging near and away from the tracks.
"The VAB design is hugely popular in Europe and Germany," says Cat's Greg Worley. "The standard 308's boom has a fixed arch, but with this design you can straighten that arch all the way out or pull it very close in confined areas."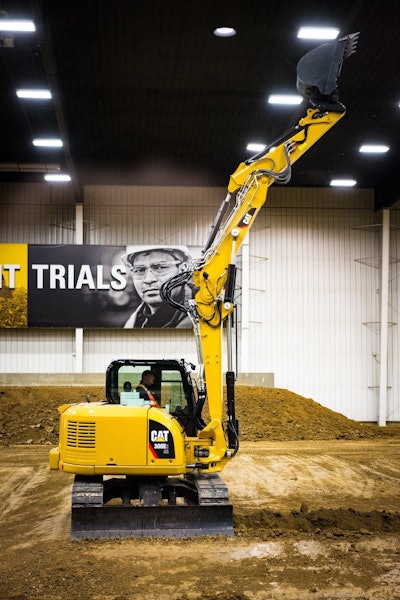 That one extra articulation point has some big effects. Reach is extended by 30 inches to 306 in., while dump clearance is extended by 56 to 239 in. That reach can be extended even further with the optional long stick.
And those who use an 8-ton excavator in tunneling and tree management applications will be interested in the added 54 in. of maximum working height, to a total of 315 in. And while the extended reach is certainly impressive, the added versatility of the design is especially apparent when working close to the tracks.
At a recent press event, Cat invited media members to operate the machine atop a small raised pad. The design allows for folding the boom extremely close to the cab (compressing overhang to only 11 inches) with all VAB functionality being controlled from a foot pedal.
The machine not only increases lifting capacity in confined spaces, but also makes moving dirt between the bucket and blade much easier, demonstrating added productivity in applications such as digging on urban jobsites or mowing along busy highways.
The 308E2 VAB features load-sensing hydraulics deliver flows of 39.6 gallons per minute and is powered by a 65-horsepower Cat C3.3B engine. The machine weighs in at 19,184 pounds. Full specs are below.
Rubber belt, steel tracks or steel tracks with rubber pads are available for the machine as are mechanical or hydraulic quick couplers.
Caterpillar says the first 308E2 VAB units are expected to ship in September.
Cat 308E2 VAB specs