Volvo Construction Equipment used the recent Rental Show to showcase its new EC35D compact excavator along with its ECR40D short swing radius model. Both models have a 27-horsepower Volvo D1.8A engine that does not require a diesel particulate filter.
"We lowered the horsepower from the C Series machines, but improved the hydraulic performance by 5 to 10 percent," says John Comrie, utility product manager, Volvo. "We have high torque at low rpm, and our hydraulics are matched to the engine, allowing the machines to find the sweet spot between engine speed and hydraulic efficiency."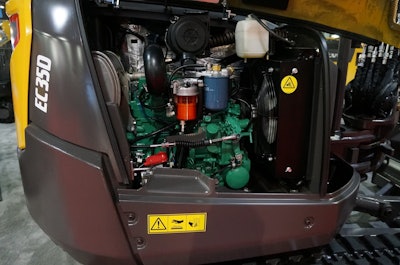 Cab space has increased by 15 percent for both models, and the proportional pilot control joysticks offer enhanced controllability. In-cab features include four attachment-specific buttons allowing operators to fine tune hydraulic flow, servo-hydraulic travel levers and pedals, two adjustable engine speeds for tasks such as grading or lifting, and an electric ISO-pattern change valve that can be switched from the operator's seat.
Serviceability improvements include a redesigned back end that gives easy access to hydraulic components and a Volvo-patented see-through filter. "Not only can you see the oil level," Comrie says, "you can see the oil itself and visually check for contamination." The fuel tank is located underneath the hood, and thus can be locked without a separate key. A wraparound counterweight mimics the look found in larger excavators, giving the machines a Volvo look.
The machines come standard with an offset boom, a feature that allows them to go parallel to a wall. "We've also moved the cylinder to the left side of the boom, so it stays protected when the boom is in the offset position," Comrie says. An angle blade option, handy for landscaping and utility applications, lets operators quickly backfill trenches.
Although both machines fit well into tight spaces, the short tail swing radius ECR40D has a swing post and offset cylinder that stays within the tracks when in an offset position, and the slew and offset movements are controlled simultaneously. "We see a lot of these machines go into demolition and pool building applications, anywhere that you need to get in between buildings or other obstacles," Comrie says.
The excavators use a universal pin-type grabber-style hydraulic quick coupler, which allows operators to quickly change attachments from the cab, as well as swap out between a regular and front-shoveling bucket position. The machines will be available in the second quarter of this year.