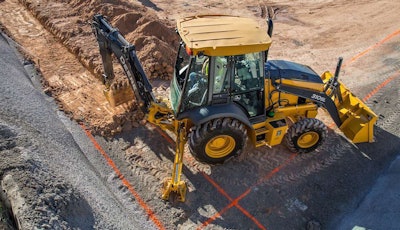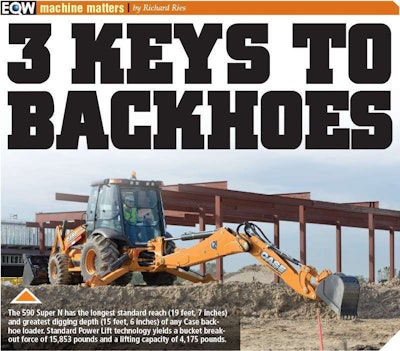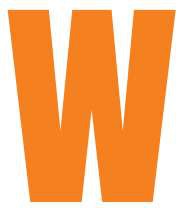 e asked sources to describe the single most important factor in each of three areas of backhoe performance: productivity, operator environment and serviceability. Responses had remarkable variety and depth, and provided valuable insights from what may have seemed like a simple question.
Productivity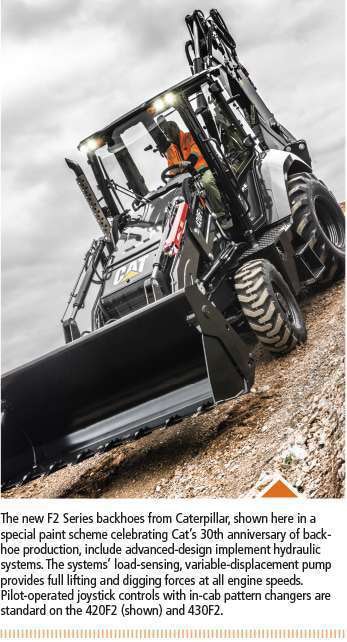 Electronics lie at the heart of many productivity features. Some OEMs offer electronics features piecemeal; others bundle them, like JCB. Its Automation package, for example, includes five standard features. These include auto check, which looks at up to 200 parameters at key-on, including all under-hood checks; and auto drive, which provides cruise control-type operation while roading. Optional auto pre-heat can be added to warm the engine block and cab (and defrost the windshield) up to 30 minutes before use. Auto boom lock and auto stabilizer functions are available when the backhoe is spec'ed with optional pilot controls.
Auto Smooth Ride is part of the Automate package; an equivalent is offered on most models from most OEMs. Settings for the feature on JCB machines are on, off or auto. "We recommend auto mode," says Rafael Nunez, backhoe product loader marketing specialist, JCB. "Auto maximizes loading productivity while reducing spillage, and eliminating the bobble-head effect on drivers during travel."
The optional Speed Selectable Automatic Ride Control on Case machines kicks in automatically when the machine is traveling at a specific speed. In addition to electronics-enabled productivity features, Case also offers hardware-based improvements. While typical lock-to-lock is three full turns of the steering wheel, optional Comfort Steer cuts this in half, allowing the operator to maneuver more quickly and efficiently. Case ProControl is a swing-damping feature that eliminates rebound on the backhoe. "ProControl reduces wear on components, lowers fatigue and provides greater precision for the operator," says Katie Pullen, Case backhoe brand marketing manager. Optional Power Lift increases the hydraulic capacities of the boom and bucket forces, allowing the machine to lift up to 8 percent more.
Tim Boulds, Kubota's construction equipment product operations manager, says versatility is the key productivity feature on backhoe loaders. Quick couplers on both ends of Kubota machines not only facilitate bucket changes, but also make it easy to use pallet forks, grader boxes and other tools. A four-point rear quick mount allows the backhoe assembly to be detached when it's not needed. "Our hydraulically-independent PTO allows the use of implements such as rotary tillers, snowblowers, and rear-mounted mowers that can be engaged and disengaged without stopping the tractor," says Boulds.
Operator environment
Caterpillar's F2 Series backhoes have a new cab, which features several storage locations and great visibility, says Sherrie Williams, Caterpillar backhoe marketing. "Loader joysticks with differential lock are located at the operator's finger tips and the 420 and 430 single-tilt machines now have a thumb roller to operate the auxiliary functions."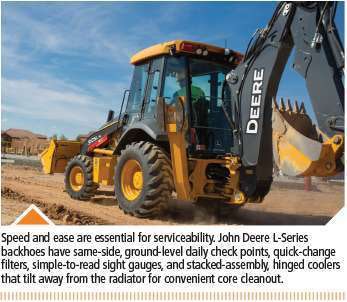 Boulds says Kubota's new L47 TLB and M62 TLB models open up and de-clutter the operator environment. "In both models," he says, "the clutch pedal has been eliminated, thereby allowing the brake pedal to be relocated to the left side of the cab, reducing interior clutter and simplifying driver operation. Foot space on the backhoe platform has been increased 27 percent over previous models, providing the operator with a roomier work area." Both models also feature electronic throttle levers and PTO switches, which reduce effort compared to the mechanical parts they replace.
Nunez says the seat-mounted pilot controls in JCB backhoe loaders is an important piece of the operator environment. With seat-mounted controls, the operator no longer has to hunch over floor-mounted backhoe controls. The challenge was to run pilot hydraulic lines that would swivel with the seat.
Several OEMs cite visibility as the most important aspect of the operator environment. "If you can't see what you're doing, it all ends right there," says Brian Hennings, backhoe product marketing manager at John Deere. Line-of-sight at truck bed level is critical with forks, says Hennings, while sight to the edges and corners of buckets is essential while digging. Deere backhoes feature a PowerCurve boom design. Wide at the base, these booms narrow to 9 inches in the middle for improved line-of-sight in the trench.
Along with a spacious operating area and ergonomic controls, Case offers traditional three-stick controls. "Case is one of the few manufacturers to still offer a three-stick control, in addition to pilot controls," says Pullen. "A lot of operators still prefer this configuration, because it's how they learned to run a backhoe. It allows them to control the boom and bucket with one hand, and operate the steering wheel with the other. It is important for experienced operators to be able to run the machine in the way that is most familiar and comfortable to them without having to relearn the controls."
Serviceability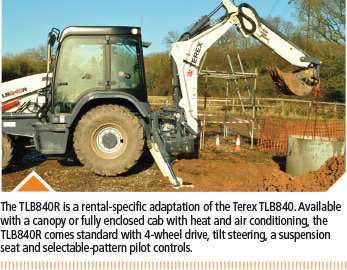 Serviceability matters because uptime matters, and equipment that is out of service for maintenance or repair isn't delivering uptime. Here again, electronics play a vital role, providing fault codes, diagnostics and more. But, as Hennings points out, designing for uptime involves more than in-cab monitors and service access points. "The John Deere Power Systems 4.5-liter diesel engine has been used in backhoe applications for more than 30 years," he says. "Its wet-type cylinder liners provide superior cooling, while also reducing oil breakdown and piston ring wear compared to cast-in-block designs." Service intervals are 500 hours.
Ernie Ferguson, division sales manager of compact equipment, Terex Construction Americas, says the key to serviceability is to stay on schedule with daily and weekly checks, as well as regular PM intervals. Because daily checks are essential to finding little issues before they create major problems, all service points have easy ground-level access, and the hood tilts fully open on Terex backhoe loaders.
Ferguson also recommends doing an annual review of maintenance records to spot any patterns. "It's important to look at what components are failing, and to determine why, how, and when they failed, as well as to know which components are holding up over time to analyze those trends."
Ferguson notes that Tier 4 Final affects serviceability because engine design and horsepower category can affect service procedures. "Terex does not manufacture engines, so we have the flexibility to evaluate the compliance solutions offered by multiple manufacturers and select the best technology for each machine application, according to the way our customers use the machines."