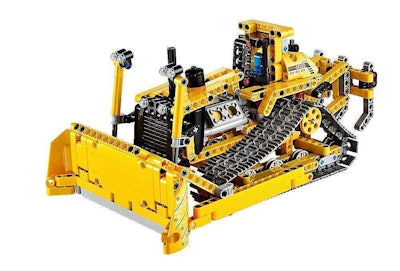 There are few things more fun than unwrapping a LEGO kit for the holidays, sitting down with a glass of milk or coffee and a plate of cookies and spending a few hours building something cool with those little bricks.
While this Technic Bulldozer kit isn't quite as intricate as last year's top gift pick, the amazing RC Technic Volvo L350F, it's also nowhere near as expensive and can be completed in about a third of the time.
Priced at $45 as of this writing, the Technic Bulldozer is a 617-piece kit allowing you to build a dozer with wide tracks powered by an engine with working pistons. There's even a ripper on back. The pieces in this 2-in-1 kit also let you rebuild the dozer as a trench digger.
It's a great excuse to gather around a dozer this holiday season.
Don't forget! As part of the 12 Days of Construction Gifts, we're giving away a Cat S40 Android smartphone to one lucky winner. Enter to win using the form below.