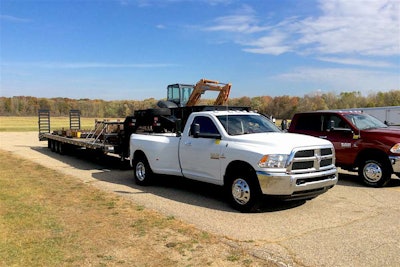 It wasn't too long ago that if you needed to tow a 30,000-pound payload, you needed a Class 5 or 6 truck to get the job done.
Today, all you need is a Ram 3500 pickup truck.
The truck maker invited Equipment World out to its test track in Chelsea, Michigan, to give its 2016 trucks a spin. And what I came away with is the degree to which Ram has seriously upped the ante in the ongoing towing wars being waged among medium duty manufacturers today.
Thanks to its long-standing partnership with Cummins, 2016 3500 Series Rams are now rated with towing capacities of 31,210 pounds. A lot of fine-tuning of the suspension and transmission went into achieving this goal. But Ram engineers are quick to give the lion's share of the credit to the exclusive, Cummins 6.7 turbodiesel engine which cranks out an amazing 900 pound-feet of torque.
Cummins and Ram have a long history, of course. And today, imbedded engineers at both Ram and Cummins development centers work closely together to deliver high-performance powertrain combinations that translate into serious workhorse trucks on the jobsite.
Cummins has introduced several performance enhancing features on the 6.7 liter engine, which debuted in Ram models last year. One is a variable air intake system.
Most diesel engines in medium-duty applications draw air into the turbocharging system through the front wheel well. In normal operating mode, the Cummins 6.7 does the same. But in inclement weather—notably snow—the system senses restricted airflow and switches to drawing in air through the front grill. The system insures the engine is always getting optimal airflow for peak performance.
Another nice touch is the integrated, Smart Exhaust Brake, developed by Cummins. This "intelligent" engine brake allows you to set downgrade speeds independently of the cruise control. So, if you select 65 mph, for example, Smart Exhaust will engage once you take your foot off the throttle, and hold your Ram truck at that speed down a grade until you elect to add throttle again.
On the Ram side of the equation, standard backup cameras help expedite backing and hooking up trailers. And an automatic air ride suspension compensates for heavy towing loads and optimizes the suspension to give a smooth ride regardless of road speed.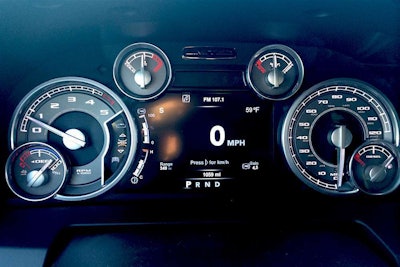 Ram has really stepped up its interiors as well.
Noise levels inside the cab are extremely low. And even true work truck Tradesman trim levels offer a level of comfort that would have been reserved for top-end pickup trucks just a few years ago. In the higher-lever SLT, Big Horn and Laramie trim packages, Ram offers a whole host of luxury options including leather seats, Alpine sound systems, and a center-dash mounted driver display screen (which doubles as the backup camera screen when the truck is in reverse gear).
Models equipped with Ram's new 8-speed automatic transmission come equipped with a standard, dash-mounted, rotary gear-selection lever, which saves a considerable amount of center console space, which Ram engineers have reconfigured as ample storage space for tablets, phones and other items.
Running at highway speeds around Ram's test track, I was immediately impressed with my Ram 3500's performance, even with a full trailer weighing a whopping 31,200 pounds behind me. The Cummins diesel gets that heavy load moving easily and still provides an astounding amount of available power at cruising speeds to accelerate and pass.
Hauling such a heavy load behind a Class 3 truck could create handling problems if the vehicle isn't set up properly. As it happens, Ram engineers put a considerable amount of work into the truck's steering and handling characteristics. The truck doesn't wander around the road with the heavy trailer in tow. There's no juttering back and forth and any lane changes or steering adjustments come off smoothly and precisely.
The result of this incredible powertrain and finely-tuned suspension is not a truck that can tow 31,000 pounds if it has to. Instead, this is a truck that is designed and built to tow 31,000 pounds day in and day out without breaking a sweat.