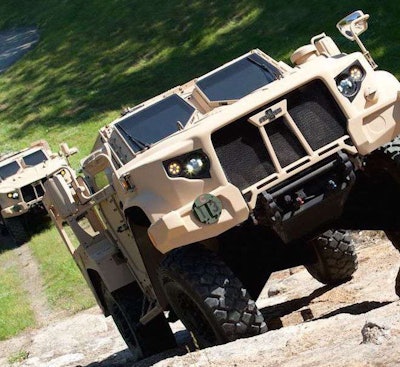 The High Mobility Multipurpose Wheeled Vehicle, also known as the Humvee, has served the U.S. Army and its soldiers well on the battlefield. So well that the vehicle became an icon along the way, leading soldiers and even civilians to buy and drive these massive trucks back at home, giving birth to the Hummer brand.
But it's been more than 30 years since the Humvee revolutionized tactical transport and now the Army has found its replacement—one with serious off-roading credentials and more protection from hidden threats.
The Army recently awarded Oshkosh Defense with a $6.7 billion contract to replace the Humvee with approximately 17,000 Joint Light Tactical Vehicles (JLTVs). Over the next few years, soldiers and Marines will benefit from the truck's advanced design.
The development of the JLTV stretches all the way back to 2005 when Oshkosh began developing the truck's independent suspension, the TAK-4i. To push development of the truck's off-roading capabilities forward, the JLTV's predecessor, the Light Combat Tactical Vehicle (LCTV) was the first military vehicle to compete in the Baja 1000 desert race.
The truck's crew protection system is called Core1080 and features mine resistance and IED detection, blast-protected seats, automatic fire suppression systems and an integrated system designed to absorb and deflect blast energy.
It's a bit more nimble too, with Oshkosh saying much of the design focus with the JLTV was to enable it to quickly escape high-threat situations. In that vein, the truck's powertrain adapts to different operating conditions and the engine's power-to-weight ratio is optimized to provide quicker acceleration and top speeds.
JLTVs come in two- and four-seat variants. The two-seater has one base vehicle platform known as the Utility (JLTV-UTL) while the four-seater has two: the General Purpose (JLTV-GP) and the Close Combat Weapons Carrier (JLTV-CCWC).