Terex has redesigned its RL4 light tower, offering increased run time per tank of fuel with more fuel capacity, a vertical mast, shorter stowed length and lighter dry weight.
The smaller footprint now allows 17 machines to be transported on a 48-foot flatbed trailer, a huge increase over the 10 of the previous RL4 that could fit. The only drawback to the new version is a shorter tower height, which now reaches 23 feet, 5 inches, compared to the 30-foot height of the older model. This decrease in size is a result of switching to the vertical mast design.
However, the tower does offer a unique safety feature with its internal mast brake.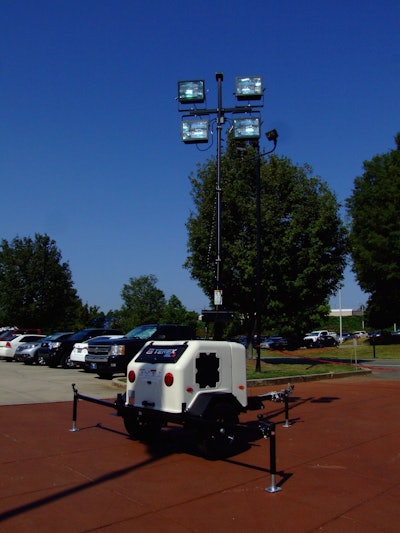 "If there is a cable failure, the mast will stop in place and not come all the way down," said Marie Engstrom, associate product manager for Terex Aerial Work Platforms. In our walkaround at the company's Rock Hill, South Carolina, facility, Engstrom said the feature survived hours of testing and the brake activates quickly and almost seamlessly. "It's not very dramatic, which is a good thing," she said. The mast is raised using one winch, one of the main factors increasing its quick setup time.
The run time now reaches 90 hours per tank of fuel (compared to 60 hours in the previous RL4), a figure that can be attributed partially to the fuel tank increasing from 30 gallons to 45 gallons. "By increasing the run time by up to 50 percent, the unit can provide light up to seven nights on one tank of fuel," she said.
The cover is now made from high-density polyethylene, a change made to avoid corrosion and dents. "After testing in the harshest environments, we found that this is a much more durable cover and will look better longer." The cover is easier to open, and offers improved access to the engine compartment.
That engine is new as well, with a Kohler KDW1003, 10.7 hp 3-cyinder diesel liquid-cooled engine. "This is a proven workhorse in the industry, and now it's part of the Terex solution. It's so reliable that Kohler gives it a 3-year parts and labor warranty."
Terex worked with Kohler to bump up the service interval from 400 to 500 hours by making adjustments such as increase the size of the oil pan.
Part of the redesign also includes a control access panel cover as well as auxiliary ports being positioned on the exterior, which keeps extension cords out of the way when accessing the controls. It's also telematics-ready.
Optional features:
electric winch
13.6 hp Kubota diesel engine
8 kW @ 60 Hz generator (6 kW standard)
battery blanket
low temperature coolant
larger battery
block and radiator heaters
positive air shutoff
Auto-Start (available on AL™ 5 HT) with photocell and timer, a feature that works well with telematics
16-inch round metal halide lamp (square 1000 W is standard)
Genie color configuration (to match existing equipment if desired)
Quick specs
Lamps Metal halide 4 x 1000 W
Generator Brushless 60 Hz, 6.0 kW
Engine Kohler Diesel 10.7 hp
Receptacles One GFI duplex 20 A/120 V
Fuel Capacity 45 gallons (170 liters)
Wheel size 13 in (33 cm)
Axle rating 2,200 lbs (998 kg)
Tongue weight travel position 203 lbs (92 kg)
Total weight (without fuel) 1,461 lbs (663 kg)