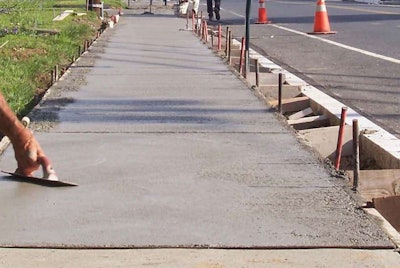 A contractor in Michigan recently endured a rough week where thousands of dollars of vandalism was done to equipment and finished work.
According to a report from the Traverse City Record-Eagle, vandals began the week of June 15 by tipping over porta-potties at the site of a sidewalk project being performed by Team Elmer's, a firm specializing in excavation, asphalt and concrete work.
But they didn't stop there, sheriff's deputies also received reports about vandals urinating the cabs of the company's equipment.
Then, on June 19, once crews had finished pouring a stretch of sidewalk, a suspect rode a bicycle down the still-setting concrete and scrawled the message, "See you tonight."
After riding the bike down the hill, the suspect then walked it back up in the concrete. Team Elmer's told investigators the damage would cost the company between $2,000 and $18,000 to repair.