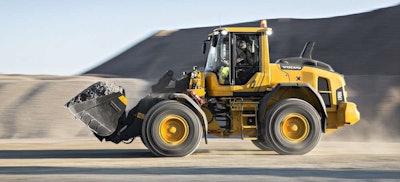 [imagebrowser id=229]
Volvo Construction Equipment has just introduced updates to its L60, L70 and L90 wheel loaders boasting fuel efficiency gains thanks to new engines and a nifty, smart gas pedal.
The new L60H, L70H and L90H are each powered by Volvo 6-liter Tier 4 Final engines, pushing 165, 170 and 184 horsepower, respectively. You can view full specs on the loaders in the chart below.
The entire powertrain on these machines is designed and built by Volvo including a durable counter shaft transmission with settings that enable the operator to tailor performance to the application. The machines are also equipped with a 100 percent diff lock on the front axle for better traction in soft conditions.
But the big advancement with these new loaders is the fuel efficiency gains. Some of that is the standard gains you get from the high torque at low speeds produced by a Tier 4 Final engine. However, Volvo has also included a new accelerator in the cab aimed directly at lead-footed operators.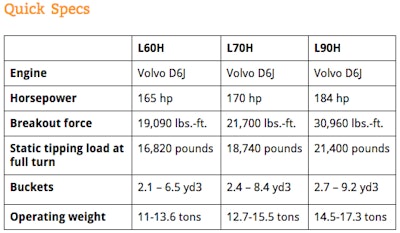 The "eco pedal," as Volvo calls it, has a mechanism that literally pushes back against the operator's foot when engine rpms exceed what the task at hand actually needs. It's a nudge in the foot giving the operator a heads up that they're leaving a fuel-friendly operating range. In the event that you need that extra oomph, Volvo says the push-back mechanism can be easily overridden.
Fuel efficiency is also boosted through load-sensing hydraulics which match power to demand. The machines are compatible with a wide range of Volvo attachments.
Owners of past models of the L90 will be happy to learn that the new L90H boasts increased engine power, torque and a better hydraulic flow rate, Volvo says.
Each of the machines is built with Volvo's Torque parallel linkage which is a combination of Z-bar and parallel linkage. Volvo says the combo delivers "high breakout torque and excellent parallel movement throughout the entire lifting range," with high front visibility.
Inside the cab, heat and air conditioning are standard along with an air filtration system that recirculates 90 percent of the air in the cab through the main filter. You can get a good feel for the cab in this video.
Grouped service points and an electronic engine hood give easy access for maintenance on the machines and Volvo's CareTrack telematics offer service alerts and real-time machine diagnostics including fuel consumption, location, idle time and more.