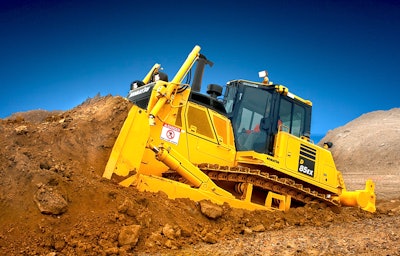 Days after introducing its largest semi-automatic dozer yet, Komatsu has expanded the lineup even further with a machine that straddles the line between the capabilities of its D85 and D155 dozers.
The new D85-18 is powered by a Komatsu SAA6D125E-7 engine, pushing the same 264 horsepower as the other D85 dozers the manufacturer offers. However, thanks to the Sigmadozer blade the machine is equipped with, it features a 9.4 cubic-yard blade capacity—1.7 cubic yards higher than the closest D85 models but 2.9 cubic yards lower than the D155AX-7/8.
The unique blade design increases blade capacity and production over a Semi-U blade in the same way a spade shovel does so over a flat shovel, Komatsu says. The Sigmadozer blade digs and rolls materials at the center of the blade and requires less energy to push through the soil, resulting in productivity boosts up to 15 percent.
Komatsu America product manager Chuck Murawski called the dozer a "sweet spot" for those looking for a large construction or small mining size dozer.
"Whether you're dozing, leveling or spreading, it has the speed and power to get the job done and it saves you fuel in the bargain," Murawski said.
Komatsu says the D85-18 offers a fuel efficiency boost of up to 5 percent over previous models and costs less to operate due to a new automatic shift transmission. The transmission offers two modes the operator can choose between depending upon the application: Automatic mode for general dozing and Manual for dozing and ripping rough ground.
The dozer's Tier 4 Final engine uses Selective Catalyst Reduction (SCR) and Diesel Exhaust Fluid (DEF) to reduce emissions. Lower fuel consumption is achieved through an electronic control system which manages airflow, fuel injection combustion parameters and after treatment functions.
A variable geometry turbocharger and exhaust gas recirculation (EGR) allow for precise temperature and air management control.
Two engine modes, E and P, allow the operator to further tailor performance to the task at hand. E-Mode should be used for general dozing, leveling and spreading tasks while P-Mode is designed to provide engine power as a priority over fuel consumption. Komatsu says E-Mode can boost fuel efficiency up to 10 percent.
Inside the cab, the dozer features an air suspension seat with heat standard. Komatsu says improvements to the dozer's cab mounts have made for a noticeably quieter working environment for the operator. The cab also features a 7-inch color display offering pull-down menus, service diagnostics and quick machine adjustments.
The D85-18 is equipped with the company's telematics system, Komtrax, which allows operators and fleet managers to keep up with the machine's fuel levels, operating hours, location and gives you cautions and maintenance alerts via a website or a smartphone. Additionally, Komtrax now monitors DEF levels, ambient air temperatures and pressures.
Komatsu CARE is provided on the machine for the first three years or 2,000 hours, and includes scheduled factory maintenance, a 50-point inspection at each service, and two DPF exchanges and DEF tank flushes in the first five years.