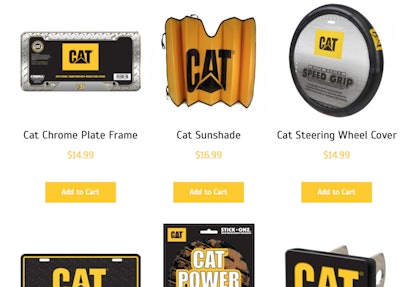 Until that glorious day when Caterpillar agrees to miniaturize the amazing front end of the CT660 and put it on a pickup, those wishing the smaller trucks in their fleet better matched the yellow iron and vocational trucks in their fleet will have to make due with accessorizing. Luckily, Cat has made that a lot easier by launching a whole new line of auto accessories in its online store.
You'll find everything from decals, to Cat tag plates and license plate frames and steering wheel covers. If you want the full Cat treatment on your pickups, you can opt for the Cat floor mats ($35) and hitch cover ($20) and we're particularly fond of filling a windshield with that bright yellow sunshade ($17).
Prices on the accessories range from $5 to $35. You can view them all here.