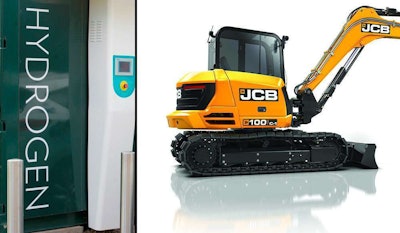 JCB, the third-largest manufacturer of construction equipment in the world, just made a very interesting announcement that could point to future machines from the company being powered by hydrogen fuel cells.
Through its Research arm, JCB has purchased more than 16 million shares valued at $7.21 million (£4.9 million) for a controlling stake in ITM Power. ITM is an energy company primarily concerned with hydrogen energy systems and hydrogen fuel cells.
All of the company's products use a process called electrolysis to create hydrogen from water. Electrolysers split water molecules into hydrogen and oxygen, a much cleaner process than how hydrogen has traditionally been created, using fossil fuels. Because of this, ITM calls its process "Green hydrogen" production.
Now, there's two primary applications ITM uses its electrolysers for, the first of which is called power-to-gas energy storage. ITM says this HGas system creates hydrogen and then introduces it to natural gas distribution systems as a fuel for heat, mobility or power generation.
The second, and more obvious (and intriguing) application is for hydrogen-powered vehicles. ITM puts its electrolysers in portable stations (about the size of a shipping container) that are capable of refueling both hydrogen fuel cell cars and fuel cell/electric hybrids.
ITM says it can refuel a fuel cell electric vehicle (FCEV) in three minutes with stored hydrogen gas, giving the vehicle a range of around 350 miles.
In fact, ITM is one of 30 businesses and organizations involved in H2USA, a public private partnership launched in 2013 by the U.S. Department of Energy in order to boost the development of FCEVs.
JCB has not said what it intends to use its controlling stake in ITM for or if it is developing hydrogen-powered or hydrogen hybrid construction equipment. In a statement, JCB chairman Lord Anthony Bamford said the company is "excited by the prospects of hydrogen technology," noting that JCB looks forward to sharing "some of our expertise in manufacturing and engineering" with ITM.
However, ITM CEO Graham Cooley added that his company plans to "scale up our business," and "enter new markets."
Speculation aside, it's certainly an interesting investment, especially considering how many industry experts consider the technology's future as a primary fuel source doubtful with the rise of electric cars.
It should come as no surprise that Tesla founder Elon Musk recently referred to vehicles powered by hydrogen as "silly." "If you're going to pick an energy storage mechanism, hydrogen is just an extremely dumb one to pick," Musk said during a recent stop in Detroit.
Nonetheless, car makers are continuing to explore the technology. Toyota recently debuted the 2016 Mirai FCEV which will go on sale in California beginning this fall. Besides, just because hydrogen doesn't make splash in the car world, doesn't mean it can't prove a suitable solution for hybrid power in industrial applications. It will be interesting to see where JCB takes the technology.