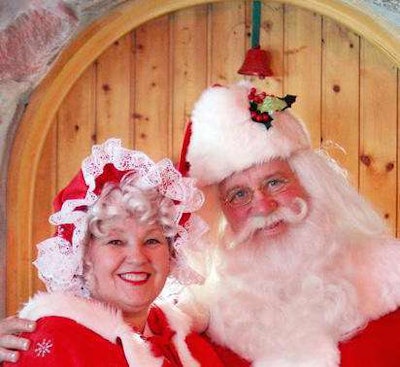 [imagebrowser id=162]
In December, many contractors are winding down the year, moving equipment off frozen jobsites and back into the yard.
Then there's Tom Valent, president and CEO of Gerace Construction, a heavy industrial and infrastructure contractor based in Midland, Michigan. Despite the frigid weather outside, this is one of his busiest times of year.
Valent's alter ego is Santa, but not just any Santa. He moonlights from Gerace Construction as dean of the Charles W. Howard Santa School, teaching others how to ho-ho-ho in proper form during a three-day course. But that's in October. In December, he's one of three Santas manning the Santa House in Midland, home to the school.
"I've just always enjoyed the Santa spirit," the 64-year-old Michigan Tech civil engineering grad says. "When my wife and I were expecting our first child, the fatherly instinct kicked in and I thought being Santa would be a helpful thing."
Valent calls his Santa role a "privilege," one he shares with his wife Holly (yes, that's her real name), who's in with him full throttle as Mrs. Claus. This is now his 39th year playing Santa, and along the way, he took on the mantle of teaching others how to portray Jolly Old St. Nick.
Valent heads the oldest Santa school in the United States, named after Charles W. Howard, who had a sterling pedigree as both a Macy's Thanksgiving Day Parade Santa, and, according to Valent, as the Santa technical advisor on the 1947 Miracle on 34th Street. Howard started the school in 1937 in New York; it moved to Midland after the Valents took it over in 1987.
Valent says while he can't teach everything that students need to learn about how to portray Santa, he and the other instructors can start to build what he calls the "Santa spirit."
Curriculum includes the history of St. Nicholas and the legends of Santa, a visit to the local Toys 'R' Us to learn what the hot toys of upcoming season will be, and even a trip to Gerace Construction's 6,000-square-foot carpentry shop so students can try their hand at making a simple wooden toy. "They get the experience of making a toy with a lot of people," Valent says. "Many people tell me it's one of the best parts of the school."
How to be a proper Santa involves a lot of insider knowledge. Children expect perfection, including fresh breath and white-gloved hands."Santa's chair is not a place to joke around," Valent says. "Children from all walks of life are going to be on your knees, and parents want their children to believe." Also on the agenda: learning simple phrases like "Santa loves you" and "Be sure to leave milk and cookies" in sign language for hearing-impaired children.
According to Valent, the Santa House, which houses the school, is a community project of Midland, population 40,000. The three-story structure, built by volunteers, gets roughly 30,000 visitors during the month of December. It also adds new features each year; this year's is a Polar Express-like train that transports visitors free of charge between the Santa House and Midland's Main Street.
The Santa House is chock-full of animated displays, with elves busily sewing, G-scale electric trains running, a Glockenspiel, and 7-foot-high nutcrackers, all designed to keep everyone entertained while they wait for Santa. Valent estimates there are more than 60 animated elves in the house, and he should know since he's made quite a few of them. This year, the house is open every day through Dec. 23rd.
But being Santa is also a business, with students getting tips from Gerace's accounting, insurance and marketing firms. And it takes an investment of time and money. The non-profit school charges $450 to new students ($800 for a couple) for the three-day course, scheduled to take place Oct. 22-24 next year. Lodging and some meals are extra. But don't wait too long if the idea of being Santa intrigues you: this year, the school had 140 students, and turned away another 40.
Valent calls his Santa/construction roles a "great mix. Being Santa makes you a better person," he says, "and for the most part, contractors are helping people. It's a business built on trust and word of mouth."
Or as Charles W. Howard himself said: "He errs who thinks Santa enters through the chimney. He enters through the heart."