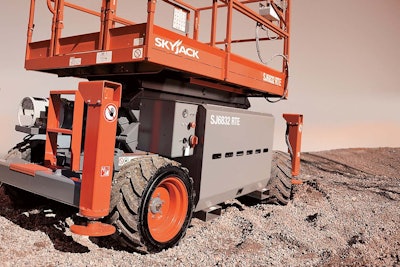 Skyjack introduced the SJ6832 electrically powered rough terrain scissor lift at ConExpo-Con/Agg; a machine the company says is the only machine in its category with four-wheel drive and 45-percent gradeability as standard.
The zero-emission scissor was built on the same chassis as Skyjack's existing diesel and dual fuel 68RT machines, enabling customers to make an easy transition to the RTE.
The elimination of servicing air filters, fuel filters, oil filters, oil changes, belts and coolants serves to reduce maintenance costs for customers. The RTE can also be used indoors because of the low noise and zero emission configuration.
The SJ6832 RTE is also designed with relay drive controls and a colored and numbered wiring system to enable service technicians to easily diagnose control systems faults.
Options include auto-leveling outriggers and a range-extending external generator.