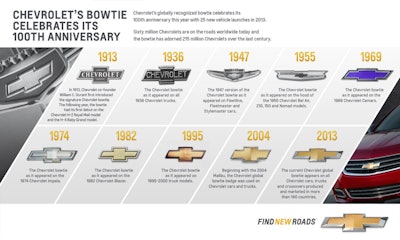 To celebrate the 100th anniversary of its famous "bowtie" logo, Chevrolet has released a cool graphic and a ton of photos charting the symbol's evolution, along with a bit of official history.
According to the automaker, the Chevy bowtie was introduced in 1913 by co-founder William C. Durant on the 1914 Chevrolet H-2 Royal Mail and the H-4 Baby Grand. The logo was placed at the front and center of both models. Since then it has adorned 215 million Chevrolet vehicles.
However, while we have a certain date of its first appearance, the logo's origins are rather murky. Chevy says that one theory is that Durant was inspired by the wallpaper design during a stay at a hotel in Paris.
Then there's the explanation offered by Durant's daughter Margery in her 1929 book My Father. She wrote that the design was an original design of her father's, explaining that he would doodle nameplate designs on pieces of paper at the dinner table. "I think it was between the soup and the fried chicken one night that he sketched out the design that is used on the Chevrolet car to this day," she wrote.
However, Durant's widow Catherine disagrees, saying that the logo was inspired by a design from a newspaper ad in Hot Springs, Virginia. According to Catherine, William Durant exclaimed, "I think this would be a very good emblem for the Chevrolet."
Thanks to recently discovered evidence, the final theory seems like the most likely. Ken Kaufmann, historian and editor of The Chevrolet Review, found an ad from the Southern Compressed Coal Company in the November 12, 1911 edition of The Atlanta Constitution. The ad was for "Coalettes," a refined fuel product for fires and the product's logo had a slanted bowtie form similar to the shape that would become the Chevrolet icon.
Regardless of its origin, the Chevy bowtie is a world-renowned brand now. Throughout the years, the design has undergone several minor changes to make it appear more current. The "Chevrolet" word mark was once present and then it was taken out. It's put on weight only to lose it, and it's even been surrounded by other shapes. Track its complete evolution below.