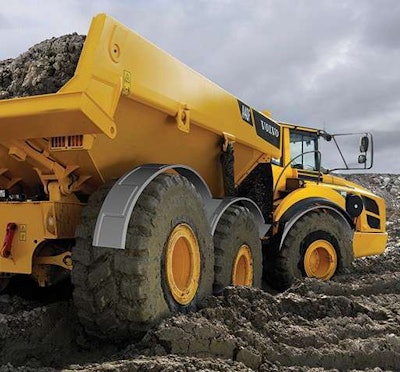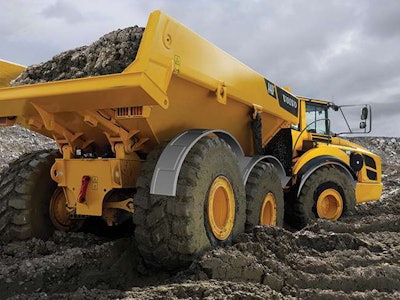 Several factors have created churn in the articulated dump truck market. There's the economy, of course, including the erratic economic recovery we're now experiencing. But there have also been shifts in customers' needs and changes in how OEMs conduct business – including the dissolution of the agreement between John Deere and Bell.
Deere began selling Bell truck badged with the Deere nameplate in November 1999. Deere dealers were already central to Bell's distribution and the agreement made sense. Manufacturing of Bell-designed trucks for North, Central and South America moved to Deere's Davenport facility in July 2005. After more than a decade the agreement came to an end and Deere launched their E Series ADTs in August 2012.
"Aside from tires and a few in-cab features that were especially popular, the E Series is a 95 percent clean-sheet redesign," says Mark Oliver, Deere product marketing manager. The emphasis was on familiar themes – productivity, reliability, ease of use and ease of service – but some of the execution was new.
A downhill control feature on the E Series maintains the speed when the operator's foot comes off the accelerator pedal. They also have an auto-dump feature (which Deere used to call driveline assist). The operator applies the service brake and presses a button. The truck holds the service brake, shifts the transmission to neutral, raises engine speed and raises the dump body. This feature is designed to reduce dump cycle times and is part of Deere's approach to improved productivity.
To improve serviceability, Deere made all routine maintenance accessible from the ground, including the 500-hour preventive maintenance. E Series trucks use only two oils – engines, transmissions and hydraulic systems use engine oil, while axles use Deere's HyGard hydraulic/transmission oil. Underhood service lights are standard. Optional reversing fans to help keep radiators and coolers clean.
Bell is back
Bell has returned to the North American market. Bell Trucks America (BTA), based in Houston, will handle U.S. distribution and Wajax will manage distribution in Canada. BTA's first U.S. dealer is Four Seasons Equipment, who will represent Bell trucks in Texas, Louisiana and North Dakota.
Models will roll out over the next six months. E Series versions of Bell's 25- and 35-ton trucks will arrive in North America in January 2014. Currently available models are Bell's four largest, the B35D, B40D, B45D, and B50D, the latter being the world's biggest ADT.
Bell is among the manufacturers offering chassis/cab platforms based on their ADTs. Cabs can be either standard or low-profile and chassis are available in short (with a single axle), standard and extended lengths. Cranes can be mounted to the standard and extended chassis. Bell's lineup includes more than two dozen bodies, from concrete mixers to forestry beds, water tankers to belly-dumps for dry materials. The four drive wheels on short chassis models can be replaced with crawler tracks.
Has the need to go bigger abated?
While Bell offers the only 50-ton ADT, the move in recent years had been toward larger trucks. Equipment Data Associate figures show trucks of 35 tons or greater comprised 27 to 31 percent of financed unit sales from 2002 through 2006. Starting in 2007 those bigger trucks' percentage grew steadily until it reached 77 percent in 2010. The trend then reversed. Trucks of 35 tons or greater fell to 63 percent of sales in 2011 and were back to pre-recession levels at 32 percent in 2012. (EDA is a division of Randall-Reilly, Equipment World's parent company.)
So what happened? Several things. Smaller trucks are popular with rental houses because of their transportability. During the recession, truck sales to rental houses were especially slow so smaller trucks made up a smaller percentage of total sales. As the recovery continues, rental customers are re-entering the buying arena and the mix of large vs. small trucks is closer to pre-recession levels.
And for some customers the promise of greater productivity with a larger truck didn't materialize. "Customers came to understand that unless the loading tool can achieve another full pass, the production improvement is never reached," says Stephen Jones, executive general manager for group marketing at Bell. A five-bucket fill with the loader or excavator is good. A six-bucket fill is good. A five-and-a-half bucket fill is money lost.
When does big become too big? Tires are a limiting factor, as is transportability even for trucks that are moved only infrequently. And in high-volume production environments where there are maintained haul roads, firm underfoot conditions and gentle grades, large rigid frame trucks serve well.
At the other end
At the other end of size spectrum lies JCB. They currently have two models, the 14-ton 714 and the 18-ton 718. These smaller trucks are aimed at niche markets, such as golf courses and beach clearing, and also find their way into housing construction and rental.
If ADTs can get too big, can they also get too small? Chris Giorgianni, vice president of product at JCB, says that when you get much below the 714 you're in the realm of site dumpers.
How does one determine which size of truck is just right? "We've noticed a trend that some users are moving to larger trucks," says Ken Emmett, ADT product manager for Terex Construction Americas, which also offers site dumpers for smaller hauling jobs. "Contractors want higher production per man-hour. But on a short-term project in good ground conditions or on roadways, smaller trucks might be a better option because of their maneuverability."
Overcoming dumping difficulties
Giorgianni cites JCB's 84-degree dump angle as a key to clearing sticky materials, such as wet clay, from the dump body. Caterpillar takes another approach, offering two of their four ADTs with ejector dumps. The 730 Ejector (31 ton) and 740B Ejector (42 ton) provide several unique advantages according to Anthony Pollock, product marketing supervisor for Cat's ADTs.
There is the ejection of sticky materials. There's also the spreading of material while moving. This "tailgating" technique provides more uniform placement than when done with a tipper body where shifting materials can greatly affect outflow. Controlled dump rates also improve crusher performance by matching feed rates to crushing rates. Ejectors can dump on a side slope, a condition that creates a hazard when a standard dump body is raised and the truck's center of gravity goes above its tipping point, leading to overturn. Side-slope dumping with an ejector can be done in place or in motion. And ejectors can dump safely in low-overhead environments, such as under bridges and power lines.
Cat points out they are "the only manufacturer to provide an in-house designed and manufactured ejector solution, with purpose-designed and integrated hydraulics." While that is true, Philippi-Hagenbuch makes ejector bodies for most ADT makes and models using a single hydraulic cylinder to drive and retract the ejector blade. The tailgate is raised and lowered mechanically as the blade runs through its dump cycle. Ejector guides are integrated into the sides of the ejector body.
Driven to success
Payload size and efficient dumping are important, but transporting the material from load site to dump pile is critical. The ability to clamber over huge rocks and up steep grades is the main reason to use an ADT over another type of truck. Manufacturers rely on unique features to help accomplish this all-terrain hauling.
• Doosan uses full-time 6WD with a tandem housing on the rear wheels much like that used in motor graders. Depending on the model, Doosan employs an automatic limited-slip differential or a wet-clutch rear differential that can be engaged on the fly.
• Deere's E Series trucks include differential locks that can be left in automatic mode or engaged manually by the operator, and the change can be done on the fly because the drivetrain uses a wet clutch.
• Cat's version is fully automatic and uses proportional engagement, leaving the truck in 6×6 drive with fully open differentials until wheel slippage occurs. The longitudinal clutch is automatically engaged when the truck enters certain grades.
• Volvo's articulated haulers run in 6×4 drive for improved fuel efficiency and reduced tire wear until conditions trigger a fully automatic changeover to 6×6 drive.
• Terex offers a 2-speed drop box on some trucks to provide higher travel speeds while maintaining maximum pull at lower speeds. Their available all-wheel drive has automatic limited-slip differentials on each axle.
Deere's adaptive suspension knows whether truck bodies are laden or empty and balance the front suspension to reduce body roll in turns. Volvo offers full suspension versions of their two largest models, the A35 and A40. This suspension system has two hydraulic cylinders, two accumulators and two sensors on each of the haulers' three A-frames. Hydraulic flow is electronically controlled to maintain ride quality. Henrik Larsson, product manager for Volvo, says that the system allows higher haul speeds and improved operator comfort to increase productivity.
Keys to spec'ing
Brian Bereika, Doosan's ADT product specialist, runs down a list of key specs. Reliability is the most important performance factor, a point on which all the sources agreed. But there is no third-party ranking or verification of reliability, so there are no hard numbers, no real specs, relating to it.
Bereika says that customers used to claim fuel economy was important, but when you asked them for specifics about fuel usage, the answers would be vague. Now those customers know fuel usage to the gallon.
More important today than acquisition cost is monthly payment and this related question: "How many yards do I have to haul to make that payment?" Even small differences in finance and lease terms can make big differences in monthly payments, so customers are spending more time finding the right offers.
Popular features include tilt cabs that improve service access, autolube systems that minimize the risk of overlooking a grease point, and inclinometers both fore and aft and side-to-side to reduce the risk of overturn. Rear-view cameras are valued because they improve safety and reduce the risk of damage to equipment.
Bereika cautions against a common misperception. "It's normal for contractors to think that whatever fits in the body is within the weight rating," he says, "but that's often not the case." Overloading dramatically increases repair costs and reduces service life. On-board weighing systems help prevent overloading, but customers should consider buying the next largest truck if there will be a risk of frequent overloading.
Where do we go from here?
Volvo's Larsson says OEMs are looking for ways to build even bigger trucks. One of the main hurdles is tire performance. Mine trucks routinely haul much heavier loads than do artics, so why not build artic tires like mine truck tires? It comes down to vastly different work environments, leading to different loads and tire stresses. Rigid-frame mine trucks traverse well-maintained haul roads with large-radius turns. ADTs operate on rough, uneven ground and often negotiate tight turns.
OEMs expect the movement to larger truck sizes will continue. JCB is looking at expanding their line to include bigger trucks. Manufacturers sometimes uprate current models and truck ratings are often higher than model names would suggest. The Terex TA250 is rated not for 25 tons but for 27.5. This is especially prevalent with the biggest models. Volvo's A40F is rated at 43 tons, Cat's 740B at 43.5 tons, and the Doosan DA40 at 44 tons.
This strategy will likely continue as it makes existing models more appealing to customers seeking larger trucks while avoiding the high cost of new model development and production. EW