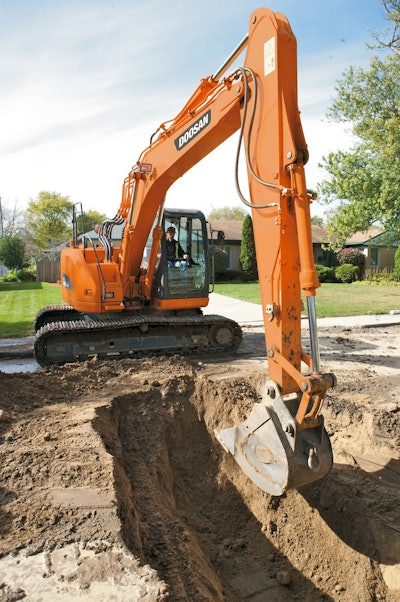 Perform a range of site development, commercial construction and road projects with the 16-ton Doosan DX140LCR-3 excavator, which features a Tier 4 interim four-cylinder Cummins QSB 4.5 engine that delivers 109 horsepower at 2,200 rpm. The excavator has a maximum speed of 2.9 mph.
The reduced tail swing machine has a radius of 5 feet with a tail swing overhang of just 9 inches over the side of the machine, ensuring suitability for working on crowded jobsites and close to structures.
The excavator offers a maximum reach of 28 feet 5 inches, and maximum dig depth of 19 feet 8 inches. The DX140LCR-3 has a 24,471-pound bucket digging force and 13,228-pound arm digging force. The 12-foot 4-inch track length ensures stability in a variety of digging and lifting applications, and 102-inch-wide dozer blade is available as an option.
The DX140LCR-3's electronic power optimizing system has four work modes, auto-idle and machine diagnostics. A straight travel pedal is available that is useful for trenching applications.
Operator comfort has been addressed via improvements to the ROPS cab, including a height lever and tilting function for the air suspension heated seat. A thickened dampening plate has been added to the cabin mounting mechanism, and an internal coil spring reduces cabin vibration by 20 percent compared to previous models.