The deadlines for Tier 4 Final engines 75 to 750 horsepower kick in next year. So this year all the major engine manufacturers who haven't already declared their intentions, showed their clean-diesel wares in Munich in April. As expected, selective catalytic reduction is on just about everybody's menu, but many manufacturers have also figured out how to do away with the diesel particulate filter and still meet the regs in smaller horsepower ranges. Here's a sampling:
Cummins
Cummins took the wraps off its QSM12 engine (335 to 512 horsepower), Tier 4 Final version, at Bauma. The six-cylinder powerplant uses high efficiency air handling and advanced combustion technology to reduce emissions sufficient to eliminate cooled exhaust gas recirculation. This makes this engine run up to 40 percent cooler and allowed Cummins to outfit the engine with a wastegate turbocharger.
Also launched at Bauma was Cummins QSF3.8 engine (85 to 132 horsepower) with SCR-only aftertreatment. The QSF3.8 reduces particulate matter in cylinder, eliminating the need for a diesel oxidation catalyst or DPF, and reduces the amount of cooled EGR needed for emissions reduction.
Volvo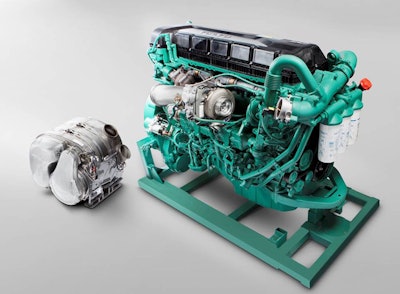 Volvo Construction Equipment will primarily use SCR technology as its Tier 4 Final approach, and achieve 5 percent additional fuel efficiency. The company will use SCR in addition to a diesel particulate filter and exhaust gas recirculation developed during Tier 4 Interim. In its Final approach, Volvo will use an updated DPF that operates with advanced electronic control technologies and increased passive regeneration. For engines 75 horsepower and greater, Volvo will use a combination of in-cylinder and external solutions, in addition to SCR.
JCB
JCB says its Tier 4 Final Ecomax engines will offer a "one-can" solution, avoiding the use of both a DPF and a DOC. The SCR unit is so compact that it can in many cases take the place of a current exhaust system and fit into existing machine configurations.
JCB also says its Tier 4 Final engines will require nearly half of the ratio of urea to diesel – around 3 percent – compared to current SCR engines on the market. The Tier 4 Final engines will also improve fuel savings by an additional 5 percent, and can be recalibrated for sale in less regulated countries.
John Deere Power Systems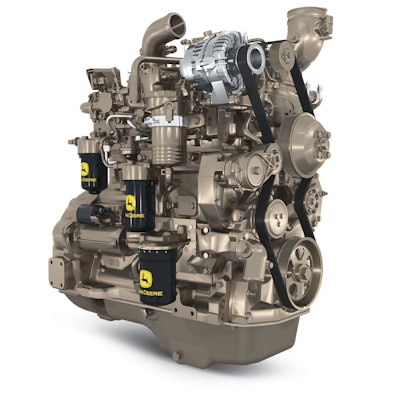 The PowerTech PWL 4.5L engine from John Deere Power Systems will meet Tier 4 Final emissions regulations without the need for a DPF. The engine series runs from 85 to 140 horsepower and uses what the company calls an integrated emissions control system consisting of SCR, a DOC and a cooled EGR.
The company also said it will be offering models in the 48 to 74 horsepower range that use a DOC/DPF without SCR or cooled EGR. Engines above 140 horsepower will use the integrated emissions control system.
Kohler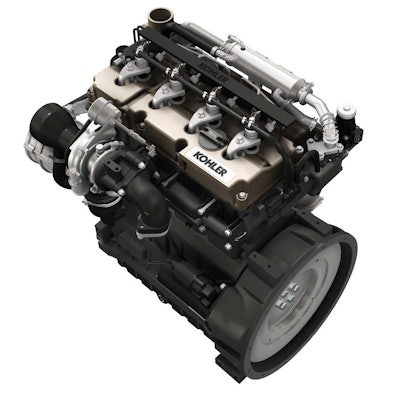 The newly enhanced KD440, air cooled single cylinder diesel engine from Kohler was designed with reduced maintenance in mind and comes with a new air filter, a modified tank that helps reduce the entry of foreign particles and a new drain tap that allows for quick cleaning of water and contaminants from the tank without the need to dismantle other components.
Kohler's 56-horsepower KDI1903TCR and 74.3- horsepower KDI2504TCR engines, feature three and four cylinders respectively and meet Tier 4 Final emissions regulations without the use of a DPF. An electronic control unit uses a fuel mapping program to monitor and manage the engine power output. A four-valve cylinder head with special combustion chamber design and cooled EGR help control emissions in cylinder, and a DOC scrubs exhaust emissions downstream.
Perkins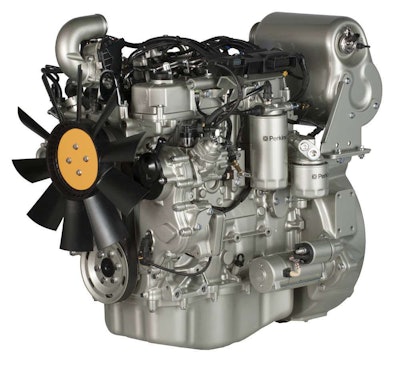 By packaging the DOC module separate from the SCR component in its 854F-E34TA engine, Perkins gives OEM customers the design flexibility of mounting the engine in either a horizontal or vertical position. The engine also receives a four-valve cylinder head and increased fuel injection pressures. The upgrades boost output to 121 horsepower and torque to 339 foot-pounds with a single stage turbo and smart wastegate.
Perkins packaged the DOC and SCR into one integrated module – on its 202-horsepower 1206F-E70TA and its 300- horsepower 1206F-E70TTA engines. The design allows equipment manufacturers to position these remotely in the machine chassis or on top of the engine, giving them more options for diesel exhaust flu lines and hookups. Perkins 400 series was also upgraded to Tier 4 Final with the addition of an aftertreament module.
MTU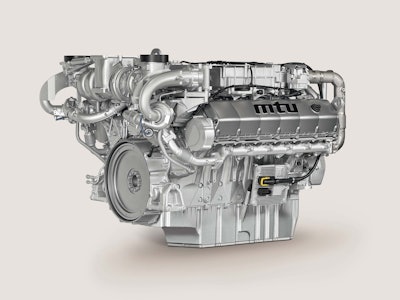 MTU had its full line of engines on display at Bauma, including the new 1600 series. These 10- and 12-cylinder engines run up to 979 horsepower and meet Tier 4 Final regulations with high-pressure common rail injection, two-stage turbocharging and cooled EGR. An optimized combustion process drives fuel efficiency. MTU also uses starter systems based on capacitors, rather than battery power, to enhance operation. EW