After ending its articulated hauler licensing agreement with John Deere last fall, Bell announced on Wednesday at the Bauma show here in Munich that it will be re-entering the North American market with the largest artic sold here: the 50-ton B50D.
The company's theme to customers: Size matters.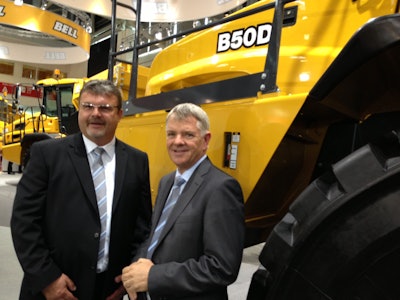 Neville Paynter, managing director of Bell Equipment North America, with Gary Bell, group chief executive, in front of the B50D, now on display at bauma.
"The B50D is the world's largest production articulated hauler," says Neville Paynter, managing director of the newly-formed Bell Equipment North America. The model has a Mercedes Benz V-8 turbocharged engine, and was initially designed for large mining operations, although its use has expanded to large quarry operations and earthmoving projects.
While Deere still maintains an ownership stake in Bell, it decided to develop its own artic, opening the way for Bell to market independently in the United States, says Paynter.
The distribution end of the business, Bell Trucks America, will be based out of Houston, as will BENA.
Initially, U.S. customers will see Bell's B35D, B40D, B45D and B50D artics. Bell says it plans to introduce the first machines in its E Series range, the B25E and the B35E, into the North American market next January.
BTA's first dealer is Four Seasons Equipment, which will represent the company in Texas, Louisiana and North Dakota. "We plan to grow deliberately, while actively seeking dealers," said Paynter. The firm says it also has an alliance with Wajax to operate Bell's dealership, servicing and parts network in Canada.
Bell Equipment North America is wholly owned by Bell Equipment South Africa.