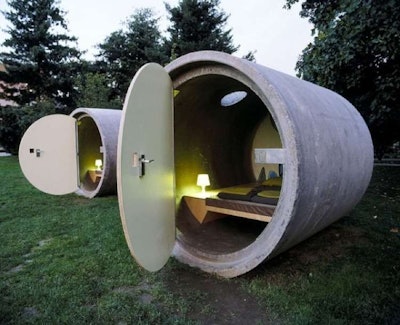 I doubt many of you order more concrete drain pipe than you need, but if you do here's a great way to reuse them. Just might make the ultimate man­ cave.
Or you could start a business with them just like the interesting German hotel pictured above. Located in Bottrop, Germany, Dasparkhotel (The Park Hotel) has repurposed several concrete pipes into units that act as hotel rooms, bathrooms, showers, a bar and even a coffee shop.
In the shale oil fields this may be the perfect solution to the housing shortage. The only problem I see is that some of your rowdy coworkers may sneak up on your cozy confines and roll you down a hill. Better get a set of chocks before locking up for the night.