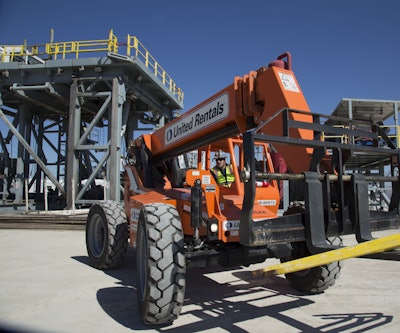 Gregg L. Christensen, United Rental's vice president-national accounts, will lead a ConExpo 2020 educational session on "How to Manage Rising Equipment & Rental Costs" on March 12, 9:30-10:30 a.m.
(You can see what equipment OEMs have in store for ConExpo 2020 in our show preview page by clicking here.)
Christensen will discuss six key components of an equipment strategy that can help keep projects and budgets on track. Here's a brief overview:
Utilization factors that help determine whether equipment should be purchased or rented: How a contractor uses equipment is often reflective of how the company deploys people and other project components — exposing pressure points on labor and materials and pointing to opportunities for cost and time savings.
Having at least six months of historical data on the usage and maintenance of owned equipment is extremely valuable when making the buy versus rent decisions. Telematics used in conjunction with fleet management software can provide insight and visibility into utilization and opportunities.
How to determine if a company has staff and infrastructure available to service and transport equipment: Owning equipment carries extra maintenance and repair costs which can mean investing in a parts inventory. Plus, there is an additional need for shop space, properly outfitted for operating safely. But the great cost by far is labor. An expansion in owned fleet usually means hiring and training more service technicians – and keeping them trained on the latest gear. When renting equipment, the additional costs and responsibilities fall to the rental provider.
Geographic footprint of where equipment is needed: When you cover more ground, it means moving owned equipment between worksites, and that creates more expenses: trucks, trailers, fuel, insurance, and outlays for drivers and driver training. It can also create more opportunities for safety hazards or violations.
Once projects and facilities are up and running, it can be even more difficult to predict equipment needs in advance. When unexpected needs arise, local support becomes an important consideration.
Project scope to assess if specialty equipment and attachments are needed: Rental inventories often have specialized equipment and attachments – items outside a typical contractor's stock because they are not needed for all projects. Specialty equipment includes temporary power and climate control, pumps, trench safety solutions and more.
Data collection to boost efficiency, productivity and uptime of equipment: Rich data enables contractors to investigate the productivity levers of equipment consumption and utilization.
Better, more comprehensive data about equipment consumption and utilization brings agility to the planning and management processes, which in turn extracts more value from equipment costs.
Companies that integrate equipment data into their planning process find that they can do more work with less equipment. These contractors achieve higher utilization of the equipment they have (rented or owned) and reduce their spend on add-on rentals or capital purchases.
Working capital goals to assess implications of equipment rental or purchase: Working with mixed fleets of owned and rented equipment is how most contractors do business. There are multiple criteria to evaluate when approaching the buy-or-rent equipment decision. For one thing, purchasing construction equipment often requires large down payments, diverting a significant portion of a company's capital. Additional expenses associated with ownership include insurance, taxes, licensing, interest on loans and paying for a storage yard. Renting provides the opportunity to reduce capital expenditures and reallocate those dollars to higher ROI activities, such as technology.