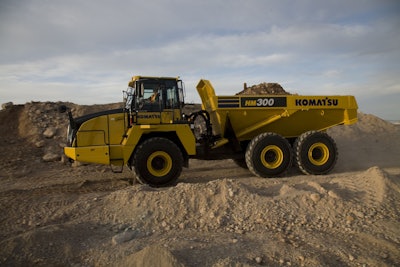 Komatsu brought to ConExpo a new machine or two in almost all its significant catagories, including the second iterration of its groundbreaking electric-hybrid excavator, and unveiled its strategy for Tier 4 engines.
The HB215LC-1 hybrid electric 20 ton excavator uses up to 25 percent less fuel than comparable models (48 percent less in some scenarios) of fuel using an electric swing motor, ultra capacitor and generator. The company has sold some 700 of the previous generation of hybrid electric excavators, which now have a combined 1-million operating hours on them. The new HB215LC will come with a 5 year/ 7,000 hour warranty.
The HM300-3 articulated truck offers 325 horsepower, a GVW of 115,147 pounds and can haul up to 31 metric tons at a speed of up to 36.4 mph.
A new line of D65-17 crawler dozers feature 15 percent productivity improvements and come prewired for plug and play 3D machine control. Also in the dozer category the D155AX-7 has a large capacity torque converter for increased speed and power and pumps out 354 horsepower with an operating weight of 87,100 pounds. The big dozer builds on the Sigmadozer blade design with an autoblade pitch function.
Also on display were a new fleet of dash-10 excavators, the PC240LC, PC360LC and PC490LC; plus a WA380-7 wheel loader–weighing in a 39,900 pounds with 10 percent better fuel economy that the dash-6 model it replaces.
In the engine department Komatsu a suite of technology to meet Tier 4 emissions regulations including a variable geometry turbocharger, higher EGR rates with much bigger heat exchange area, combustion optimization, DPFs, electronic controls and the elimination of crank case ventilation emissions with the use of CCV filters.