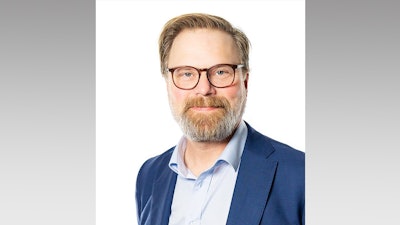 Huddig
Swedish backhoe loader manufacturer Huddig has named Håkan Bäckström as its incoming CEO, taking over at year's end for longtime leader Lars Lindahl. After more than 20 years at the helm, Lindahl has elected to retire.
Bäckström most recently served as CEO of Hexatronic Cables & Interconnect Systems AB, where he has successfully contributed to growth and increased profitability.
Huddig Chairman Jan Wallberg thanked Lindahl for his service and dedication to growing the brand. Looking to the future, Wallberg said, "Huddig is now facing further export investments and an increased focus on the green transition. Håkan Bäckström will be important in our future development and international growth journey. His experience from similar initiatives in other industries will be beneficial for Huddig."
Commenting on his new role, Bäckström added: "I am passionate about Huddig's products and want to continue to drive development together with customers and partners. It feels very inspiring to join the company in a phase where we will intensify our market presence and continue to establish Huddig internationally."
Lindahl will continue to serve on the company's board.
"It has been 20 intense and exciting years in this fantastic company. Now the timing is perfect for handing over the CEO role to Håkan Bäckström. I look forward to following his work with the company from the boardroom," Lindahl said.