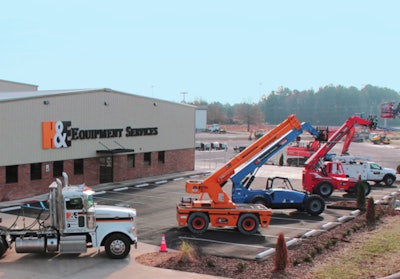 H&E Equipment Services
H&E Equipment Services has sold its crane business to Manitowoc for $130 million in cash in what it calls an "important step" in its transition to a pure-play rental company.
"We expect our continued migration to higher margin rentals will promote our strategic focus on geographic expansion and fleet investment, drive outsized revenue and profitability growth, and enable us to take full advantage of opportunities created by favorable industry and macro trends," says Brad Barber, H&E's chief executive officer.
Unanimously approved by H&E's board, the divestiture is expected to increase and further stabilize the company's EBITDA margin as it focuses on higher margin equipment rental business.
H&E says its rental business has shown consistent growth with a compounded annual growth rate of 11% in the five yers leading up to 2020. This growth has seen the rental portion of the company's business expand from 32% in revenues 10 years ago to 51% in 2020.
According to H&E, the overall demand for equipment rentals has continued to expand and "has proven to be more stable and resilient to market disruptions than the distribution business."
Possible use of sales proceeds include further expansion of new facilities, investment in rental fleet and enhanced technology capabilities. The company also says the proceeds will fortify its strong cash position while supporting strategic growth initiatives.