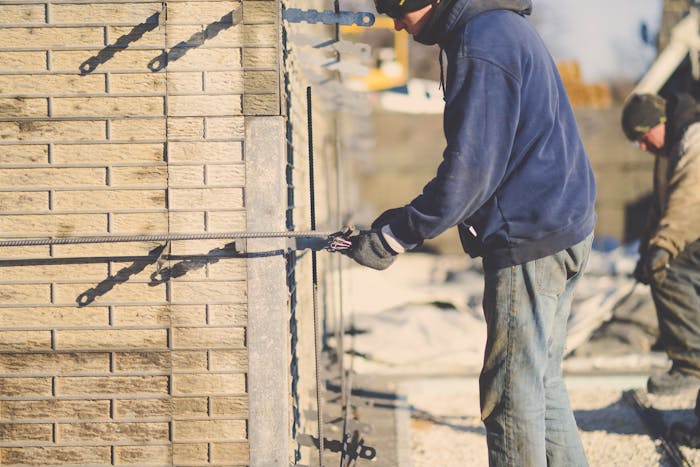 Concrete Foundations Association
While many of the problems and shortages related to the pandemic and last year's economic disruptions seem to have eased for now, disruptions and price increases are still stalking the construction industry. And too often shortages of the little things send shock waves throughout the entire industry.
Take concrete form ties. These give the crews that build hand-set aluminum concrete forms a quick and easy way to space out the two sides of the form and hold them together against the lateral pressure and weight of the concrete as it is poured into the form. They are essential to the rapid and economical construction of residential and light-commercial concrete walls and foundations. The typical concrete basement wall and foundation requires hundreds of ties.
Diligence required
According to James Baty, executive director of the Concrete Foundations Association, the shock of the shortage earlier this year has worn off and the industry seems to have settled into current allocation levels, but contractors must remain diligent about maintaining inventory.
When the shortage became apparent this spring, the CFA brought together steel mills, stampers, distributors and contractors to find out exactly was causing the problem. Efforts were made by these players to alleviate the shortage and create new supply options, but indications are that further restrictions are possible, says Baty.
According to Doug Herbert, current board president for the CFA and president of Herbert Construction, a residential concrete contractor from Marietta, Georgia, the lingering issues will lead to increased costs and could result in contractors struggling to find ties.
Lack of steel and shipping

Concrete Foundations Association
This shortage was caused by two factors, says Baty. First: form-tie manufacturers were having a hard time getting enough high-spec steel coil from domestic manufacturers needed to make form ties. Second, while foreign markets have significant inventories of ties, shipping container space has reached what Baty calls "an ultra-competitive level."
The form tie deficit is likely to exceed 50-million ties as the homebuilding market grows, says Baty. The only reason that deficit is not bigger is that shortages in other industries such as appliances and lumber have contributed to a slight lengthening of home construction schedules. According to the Associated General Contractors of America, the cost of goods and services used in construction climbed by a record-setting 4.3 percent in May and 24.3 percent over the past 12 months.
Chain reaction
The ripple effects of the form tie shortage are significant.
When homebuilders tap the brakes, that slows down not just for concrete forming and finishing companies, but for all the trades and contractors allied with the development of subdivisions, custom homes and light commercial construction. This includes earthmoving and sitework contractors, trenching and utility contractors, plumbers, electricians, painters, drywall contractors and roadbuilding and related infrastructure builders.
Additionally, the shortage will delay the production and increase the prices of homes at a time when demand is soaring. The residential market has been the one bright spot in the construction economy this year, while most other segments are flat to negative.
[Related: FMI: Construction moves forward, expect boom in 2023.]
Contractors can build concrete forms with other form tie systems, primarily fiberglass and wire ties. But these can increase labor costs or may not provide the strength needed to keep some sizes and types of forms together during a pour.
What to do?
"It is not likely that any company will be able to inventory steel form ties now," says Baty. "This may have been a possibility for those sensing early on that a problem was coming. But today, suppliers and manufacturers of ties are receiving significantly greater number of order requests than normal and there just are not significant quantities of ties to be had."
For the foreseeable future, the CFA is concerned about safety issues for contractors who are forced to find alternative methods or materials.
"Alternative methods mean that contractors will try using fewer ties, lesser quality ties or a different system altogether," says Baty. "All these all will produce significant safety risks to the concrete placement process as the workforce attempts to go about the schedule using standard practices."
Baty urges contractors do their homework. "Any contractor purchasing ties should verify the capacity of the ties for the systems they are using," he says. "The steel form ties for aluminum and zinc forming systems are rated at 130-145 KSI of tensile capacity and have a hardness that allows quick break-off so that the sharp form tie ends are not exposed for extended periods of time." While grinding these sharp ends is possible, it is both a schedule and safety risk, he says.