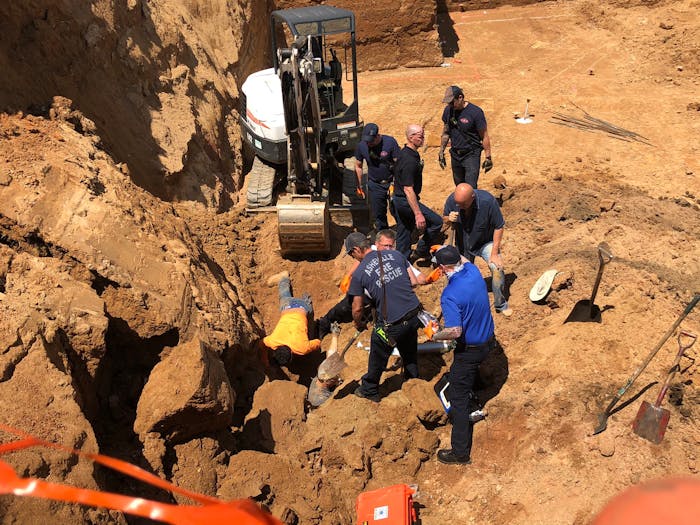 Asheville Fire Department
Six workers died in trench collapses and four workers were rescued after being partially buried by cave-ins this past spring around the country.
Fatal cave-ins
Workers died in Colorado, New York, North Carolina, Utah and Texas between March 20 and June 20.
March 22 – David Valenzuela-Pavilla, 42, of Spring Valley, New York, died in a 10-foot-deep trench in Woodbury, New York, according to the Woodbury Police Department. Valenzuela-Pavilla was buried when the trench he was in did not have a trench box, police said. The U.S. Occupational Safety and Health Administration has an open inspection for Amerex Construction of New City, New York, on the matter.
April 5 – The body of Jason Villalobos, 21, of Houston was recovered after a six-hour operation in Corpus Christi, Texas. Villalobos was working on a fiber optic project in a 10-foot-deep trench when it collapsed. OSHA has an open inspection for SS Construction of Houston on the matter.
April 16 – Luis M. Cortes-Correa, 50, of Thornton, Colorado, was in a 25-foot-deep trench in Johnstown, Colorado, during a residential sewer pipe installation. When rescue workers arrived, three workers were trying to rescue Cortes-Correa. Water was coming into the trench, and Cortes-Correa was pinned in mud under water, according to the Loveland Fire Rescue Authority. The trench was 30 feet wide and funneled down to about 5 feet wide at the bottom. Workers had been using a pump to remove water from the trench, but at some point, the trench partially collapsed from the bottom. About 60 rescue personnel were on the scene. They used a vacuum truck and pumps to remove water from the trench for the recovery operation, which took seven hours. OSHA has an open inspection for Dunaway Excavating of Strasburg, Colorado, on the matter.
May 4 – A worker from Stamford, Connecticut, died in a trench collapse in Mamaroneck, New York, at a residential construction site. He was buried in dirt in the 10-foot-deep trench. No further details were available.
May 19 – Shane Sharpe, 37, of Taylorsville, North Carolina, was found partially covered in asphalt and dirt after a 10-foot-deep trench he was in collapsed. Workers were replacing a drainage line at a business parking lot when the cave-in occurred. OSHA has an open inspection for Barnes Backhoe - Grading of Taylorsville on the matter.
June 15 – A worker died in a trench collapse in South Jordan, Utah. Another worker was in the trench but was able to escape. The trench was at a residential construction site. No further details are available.
Cave-in survivors
Trench rescue operations are difficult, time-consuming and dangerous and often become recovery operations because rescuers can't safely get to buried workers in time. Often, co-wokers who try to rescue a buried colleague can get caught in secondary collapses. Before rescue workers enter a trench, they first make sure it is secure by shoring or other methods.
And even though the worker may not be completely buried, there is still a danger from compression, which can prevent circulation and cause tissue to die. And when blood begins to circulate again, it can lead to organ failure.
This past spring, at least four workers were rescued from cave-ins:
April 7 – A worker was buried up to his waist in a trench in Lower Pottsgrove, Pennsylvania, after one of its walls collapsed. It took rescue workers over an hour to remove him. More than a dozen fire and rescue agencies were involved. OSHA has an open inspection for H&K Group of Skippack, Pennsylvania, on the matter.
April 20 – It took several hours for Asheville, North Carolina, firefighters to rescue a worker buried up to his chest in a collapsed trench. They first dug away dirt to take pressure off his chest. He was later removed in stable condition and taken to a hospital.
May 7 – A worker's foot was trapped for four hours in a trench collapse on Mercer Island, Washington. He was in a narrow 9-foot-deep trench. He was taken to a hospital in reportedly stable condition. Several agencies responded to the rescue and used specialized equipment due to the confining nature of the trench. A vacuum excavation truck was also deployed.
May 27 – A worker was rescued from a collapsed 12- to 15-foot-deep trench in South Portland, Maine. Workers were digging overnight at an intersection when the collapse occurred. Co-workers uncovered him and firefighters used a ladder truck to lift the worker out, according to the Portland Press Herald. He was reportedly conscious and alert when he was taken to the hospital. OSHA has an open inspection for Dearborn Brothers Construction of Buxton, Maine, on the matter.