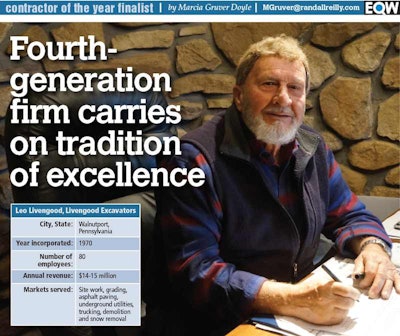 About five years ago, Leo Livengood got a phone call from a former client. The call was from the second generation of a family he and his father had worked with, and they had a question: Would Livengood Excavators do the site work on a new drive-in theater the family was building, which was going to be located right next to the one that Livengood had previously built?
Recalls Leo: "I thought, gee, what an unusual opportunity to do the same job 60 years apart … so I got on a dozer and graded the ramps for the second drive-in myself."
The Livengood construction heritage goes back to Leo's grandfather, Charles Livengood, who worked with horses to move material. Leo's father, Harvey Livengood, eventually started digging house foundations. When Leo was around 12 years old, he got on his father's D4, and he was hooked. Leo still has the 1952 invoice for that D4, priced at $8,727.20.
When a stroke disabled his father at 56 years old, Leo, then in his early 20s, knew that the continuation of the company was now on him. "There were contracts that had to be fulfilled, and my mom, who owned the business, made me a deal that I could continue to run it as long as it was successful," Leo says. "Those were lean years. It was rough for a while."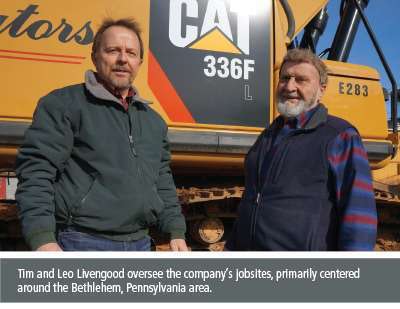 It helped that there was no shortage of a work ethic within Leo. "I've spent many a night in the shop so that we were ready to go out the next day. It was up to me. I was the guy."
Leo fulfilled his part of the bargain, with a ready assist from his wife, Betty Livengood, who handled the office for many years. The company gained new strength when son Tim Livengood and daughter Tina Livengood joined its ranks. The 1980s were a period of expansion as the firm aggressively sought commercial accounts. "We saw a lot of growth in all sectors," Tim says.
The $14 million to $15 million company now has 80 employees and focuses on residential, commercial and industrial paving, utilities and site development work.
The dedicated late nights that Leo put in during those early years were an example of the extraordinary work ethic that's been noticed – and appreciated – by Livengood Excavators' clients. Eric Griesener, with the Bethlehem, Pennsylvania, Traditions of America development firm, recalls one of the many times the company's above-and-beyond mindset meant the difference to his firm. With a heavy snowfall on the ground, and a PennDOT-required 3,000-foot bypass swale to put in, "they meticulously followed through so we could get started on our clubhouse in early spring," Griesener says. "They often work Saturdays, even when it's not requested, to get ahead of the job."
And, adds Griesener, "Their housekeeping is second to none. The spoil piles are always rounded off, and nothing is left out on site. It's a clean operation, one that's very proactive in meeting watershed requirements."
Client Dan Kunkle, with the Wild Life Information Center, tells of another instance of Livengood Excavators' client-centric approach: "Our project called for a concrete retaining wall, but Leo said we could build it out of boulders and then put soil and plants between the boulders, making it look much better. It became a living wall. That's one example of how he works with you to come up with solutions."
"We Push to Please"
It doesn't take long being around Leo to know that he's passionate about the company's machinery. "I attribute a lot of our reputation to the appearance of our equipment," Leo says. For the past 15 years, Livengood Excavators has put custom murals on its heavy and mechanics trucks to showcase its expertise, with such slogans as "We Push to Please" and "Driveways to Highways, Best Quality Always."
The benefits of this approach go beyond enhancing the company's reputation. "The cleanliness and neat appearance of our trucks help us attract employees," Leo says, noting that the company has had three generations of one family come to work for the firm.
Livengood Excavators also invests heavily in in-house equipment maintenance. It has a 7,000-square-foot truck maintenance shop and a 3,000-square-foot construction equipment repair shop equipped with two 7.5-ton overhead cranes. There's also a 3,000-square-foot welding and fabrication shop and a 2,000-square-foot prep and paint shop. Four mechanics trucks go from job to job to ensure equipment uptime. And the company's truck shop foreman, Tim Yezik, has been with the firm for 42 years.
All of this helps keep the company's extensive fleet, which includes 22 excavators and 10 dozers, in running order.
"It's more practical to own our equipment, especially since we usually specify several options," Leo says. Because of the company's heavy production demands, about 90 percent of its equipment is purchased new. "We rarely rent," says Tim, "and when we do, we use rental purchase options."
One newer addition to the Livengood Excavators fleet is a milling machine, added when the company found its milling subcontractor couldn't take on all the work the company was throwing their way. "Our talented operators were able to quickly pick up things and start operating the new machine productively," Leo says.
Keeping up with technology is also a must; the firm has installed GPS and grade control systems on several dozers and excavators. "Our goal is to increase production and completely eliminate stakes," Leo says.
Leo admits that seeking new equipment solutions is an ongoing quest: "There's always a machine on my wish list."
Happy clients, happy life
When you ask Livengood's clients about what it's like to work with the company, be prepared to settle in for an enthusiastic conversation.
Says Traditions of America's Griesener: "It's always a pleasure to work with their crews. They're on time, and when they make a commitment, they follow through. We had 20 inspections in 24 months, and they passed all of them with flying colors."
Adds Dan Kunkle with the Wild Life Information Center: "He's got the best crews and best equipment around. He's the guy everybody calls when someone else messes it up. When you go to work for Leo, you don't go back to work for anyone else."