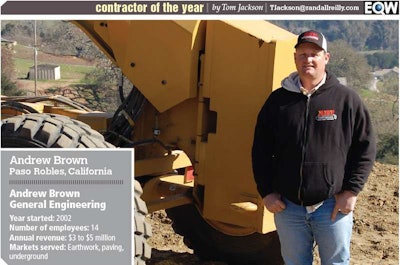 Andy Brown didn't grow up in construction. His parents and grandparents were successful in the restaurant business. But, what he learned from them—about hard work and keeping a close eye on the books,— has served him well.
After high school in Atascadero, California, Brown apprenticed with the Operating Engineers Local 12 and worked for Granite Construction until he earned his journeyman's certificate. Even though he was making good money as a union operator, Brown aspired to someday start his own business. It was something he knew he wanted to do, even as a kid.
In his mid-20s, Brown passed all the tests and applied for a contractor's license, but, California being California, the state waited a year before deciding to give him one. "They said I didn't have enough experience," he relates, which proved not to be the case. After finally earning his license, he bought a used backhoe from the foreman he was working for at the time. In his words, "It was all downhill from there. I turned that one backhoe into 30-plus pieces of equipment in 13 years."
Brown began by digging a lot of swimming pools and teaming up with a buddy to do residential utility hookups. "I can remember running that backhoe for $50 an hour and thinking I was in tall cotton," he says.
In nearby Santa Maria, he won a bid to install utilities and finish grading for a 400 home development. It was here that he learned of the bare-knuckled world of working for big developers; always angling to shave costs and bring in prices lower than the bid. "They know how to work you for something less, and it got to the point where every two years they'd have a regime change with their contractors. You were always battling them over this or that," he says.
But the rough and tumble business climate in California real estate development didn't discourage Brown. "When somebody says, 'You're never going to pull that off,' and puts me in a corner, that motivates me. I work way better under pressure," he says.
He inherited some of that attitude from his father, who Brown says helped him develop the fortitude and mental habits to make good business decisions. When Andy was just 20, his dad ripped into him for missing an insurance payment on his truck. "He said 'I never want to see this again. If there is anything the Browns do, it's pay their bills. You don't want to be the guy who doesn't pay his bills and lose everybody's respect.'"
And when he had to ask his dad for a loan for repairs (after blowing out the rear end on said truck): "It was one of the lowest parts of my early adult life," says Brown.
Finding the right clients
Despite the hardball tactics of some developers, Brown soldiered on, and his reputation for quality work brought in better jobs. He found favor with some custom homebuilders, who were putting up $2 and $3 million homes, and eventually branched out into doing work for the burgeoning vineyard business in Central California's wine industry.
"The vineyard work is what we truly love," says Brown. "A lot of it is design-build, and the vineyards helped carry us through the recession."
The technical tolerances in vineyards are not as challenging as those in civil work. It's mostly basic earthmoving, cutting terraces, building water storage ponds and installing irrigation systems. But, the clients are typically multi-millionaire businessmen and women — who expect every detail to be perfect. "That's what I enjoy most about it," Brown says.
"Our company is very particular," says client Kevin Wilkinson. "We deal with high-end properties, and everything has to be clean and precise. Andy's equipment was always pristine. His employees can handle themselves equally well in the field, or in a meeting in a conference room. Andy and I are business owners with the same attitude, which is to over deliver every time. That's what got me going with Andy; his willingness to go the extra mile."
Aesthetics is one of those attributes that doesn't show up in a bid or scope of work for earthmoving projects, but it is critical to vineyard owners. "A lot of people are bound by the bid, but if Andy sees something he can do to make something look better, he'll take it on himself with our permission," says Wilkinson. "Nobody does it better."
The desire for perfection in the details also applies to the business processes of contractors who work for vineyard owners. Here again, the company does not disappoint.
"From day one, Mr. Brown and his team worked closely with us on providing detailed project timelines and budgets, and continually kept us informed if plans needed to change," says Paul Kaselionis, vineyard and grower relations manager for Justin Vineyards and Winery. "No project is too big or too small. His team is professional, timely, and incredibly savvy," he says.
On the opposite end of the technical spectrum, Brown's expertise in marine and offshore work (putting in caissons, drilling, and excavating from a barge) has also set his company apart.
"He's first class," says Paul Gillen, president of Associated Pacific Constructors. "We use him whenever we have near-shore or on-shore earthmoving to be done. He has good crews. They are very involved with the site. The operators know what they're doing, and there are no apprentices on the machines. The equipment is always well maintained, and he's very good about environmental best practices and safety."
Equipment philosophy
When it comes to the yellow iron, Brown admits, "I'm in love with the tractors. All our stuff is cherry. We take good care of it. We take pride in our fleet." That includes his trucks, which are all painted fire engine red.
While many contractors grumble about the cost and complexity of the Tier 4 Final engines in new equipment, Brown takes a more balanced approach. "It's a double edged sword," he admits. "But, we need to clean up our air…bottom line. We should have done it 25 years ago, but the technology wasn't there. For us, having new equipment will be a good thing, because now we're all compliant." Brown says that one benefit of the cost increases of new regulations will be to push some of the cheap, old school contractors into retirement. "Some of my competitors run equipment older than I am, and although their maintenance costs are high, it is difficult to bid competitively against someone who doesn't charge his equipment to the job or thinks it has no cost."
Andrew Brown General Engineering (ABI) has also found value in setting up a GPS system for its dozers. "Housing tracts are perfect for GPS," Brown says. "We get one survey done, to make sure the model is exact, but then you never have to go back and you don't have to work around the stakes. You still need a grade checker, but your error factor comes down to almost nothing. On a big job, you'll gain $40,000 in increased production. Looking back, I think it was the best thing we ever did; to forge in on the constantly changing technical world. If you want to stay on top, you have to keep pushing technology."
Safety first
In 13 years of operation, his company has never had an accident claim; not even an auto accident. "That's one thing we push pretty heavy around here," Brown says.
Above and beyond the routine tailgate talks, a big part of Brown's safety program is ensuring that new guys in the field are paired up with more experienced hands. The veterans make certain that the new hires know their limitations and how the jobsite works.
Another reason Brown maintains a good safety record, is the quality of his workforce. "We don't have $10 an hour guys working for us," he says. "If you have guys who are worth good money, those are going to be turned on guys. They're going to know when something's unsafe."
Improving the process
Brown says his biggest challenge today is staying out of the field and letting his supervisor, Jason Montgomery, run the operations while he focuses on sales and the big picture. "I've gotten somewhat better at just turning Jason loose to handle it," says Brown.
"If anything, that's the only way you're going to grow," says Brown. "The key is to surround yourself with good people. And besides, you know how bosses are. They come out to the field for two hours, screw everything up, and leave."
A long-time friend, Jason joined the company as part of a regime change. Brown says he had a good crew prior, but that some people can change and some can't, and that he needed to change to grow his business. A lot of those changes involved getting away from what Brown calls "the cowboy ways," and instituting more rigorous analytics and process improvements.
"We went from asking 'what's going on' at the end of the day, to having to look ahead," Brown says. And that required much more detailed daily reports, including analysis of fuel burn, equipment utilization reports, and labor analysis. "It's hard to do, but if we're not making any money, then nobody's going to do good. If we are making money, then everybody will do good," he says.