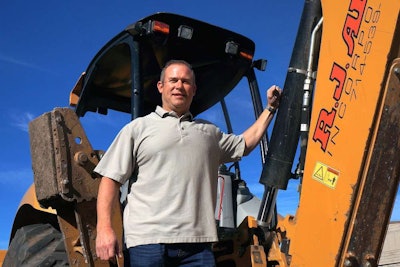 Andrew Allen, president of R. J. Allen Inc, has a different perspective on California Air Resources Board regulations, which require a certain percentage of a contractor's equipment fleet be compliant with the latest emissions regulations.
Allen, one of 12 finalists for the 2015 Contractor of the Year program, sees using Tier 4 Interim and incoming Tier 4 Final equipment as a competitive advantage. "It was a huge sacrifice and scary, but I think it's paid off," he says. Clients such as Southern California Edison require top emissions tier equipment, "and it gives us an advantage to have that equipment."
While the entire industry has gone through the EPA emission regulations for new equipment, California contractors such as the Garden Grove-based R. J. Allen are also under CARB regulations. It prompted Andy to change his fleet management approach as the industry made its way through Tier 3 and Tier 4 Interim and now Tier 4 Final equipment.
"We used to buy, but when we always had to have the latest tier machines, we converted to 3-year leases," Andy says. By leasing, the company always got the latest emissions-compliant equipment, and "it helps out with machine reliability," he says. Now that Tier 4 Final appears to be the last emissions hurdle to jump—at least for now—Andy may consider going back to buying.
The firm, which specializes in a variety of work including concrete sawing, demolition and commercial rehab, has a self-propelled fleet made up of primarily backhoes and skid steers. "We'll do a lot of breaking and use a Cat 450 backhoe with a hammer to get the production we need," Andy said.
Operator and shop input is a key component of machine purchases, Andy says. "Some of our operators have been around for a long time and they like certain types of controls. We like to go with what they like," he says. He also sends a crew to World of Concrete in Las Vegas each year to check out new technology and products.
In addition to its regular slate of contract work, R. J. Allen also provides machine-with-operator-rentals to contractors and clients throughout its service area of southern California. Although it varies from year to year, this type of service work is roughly about 30 percent of the company's revenues.