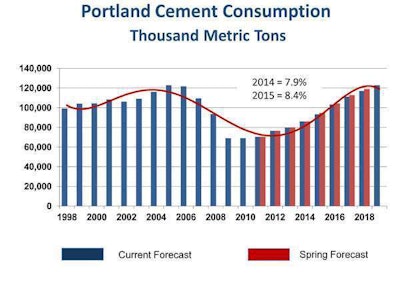 According to the latest forecast from the Portland Cement Association (PCA), cement consumption in the U.S. will see steady gains over the next three years.
As far back as the World of Concrete show in January and again in the Spring, PCA chief economist Ed Sullivan has forecasted 8-percent growth in cement consumption and that forecast holds steady as autumn takes hold. The latest PCA forecast expects 7.9 percent growth in 2014, to a consumption of 86.1 million tons.
In 2015 consumption is forecast to increase 8.4 percent to 93.3 million tons and in 2016 10.7 percent to 103.2 million tons.
In a prepared statement, Sullivan said cement consumption is up 8.4 percent through July of this year and that the pace of consumption has strengthened as the year has progressed due to economic growth driven by gains in the labor market, low consumer debt and increased consumer wealth.
Sullivan expects residential and nonresidential construction to strengthen over the next three years alongside government construction projects.
"While there is concern that the economic growth dynamics have changed as a result of the recession, there are also ample reasons to suggest the economy has weathered the healing process and is just now beginning to transition to a stronger growth plateau," Sullivan said. "Keep in mind that the recession generated tremendous pent-up demand, which will add strength to economic growth rates going forward."