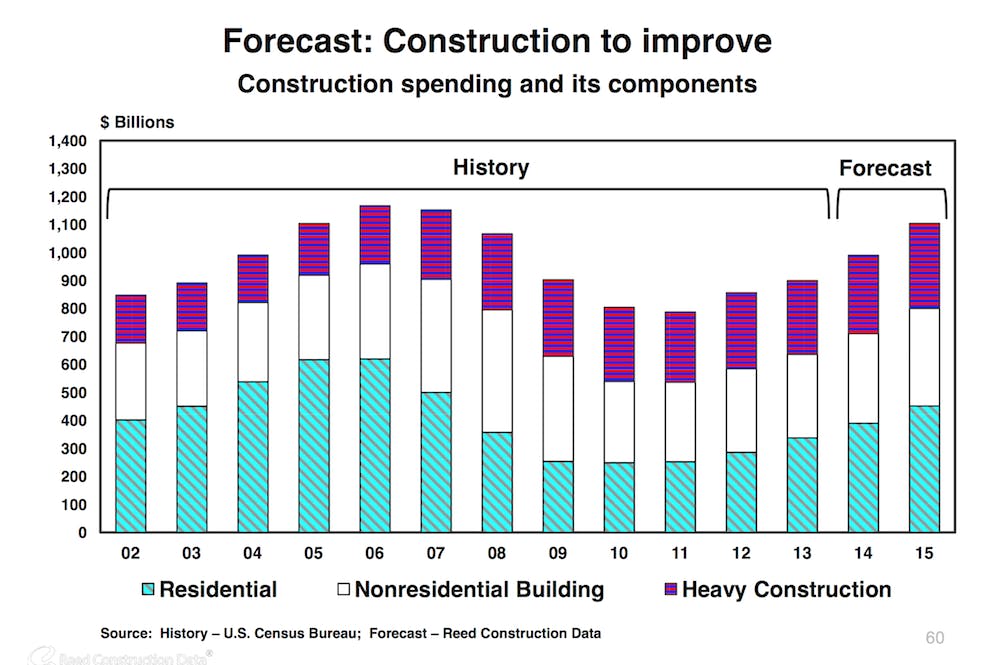 The outlook from respected economists in the construction industry continues to be mixed as all the elements for growth are there but several factors could limit or hurt the industry's ongoing recovery.
Bernard Markstein, chief economist at Reed Construction Data, Kermit Baker, chief economist at the American Institute of Architects and Ken Simonson, chief economist at Associated General Contractors of America each made presentations Thursday afternoon during a webinar focusing on the outlook for 2014 and beyond.
Markstein said the industry has shown clear evidence of economic improvement but notes that things could be better, alluding to what he, Simonson and Baker said was a disappointing first quarter for 2014.
However the harsh winter weather seen in many parts of the country early on this year played a big role in the so-so numbers seen in construction spending, employment and home starts, Markstein noted saying, "My view and the view of others is that there will be a bounce back."
"We have seen relatively steady though slow improvement in the economy. We've seen less volatility recently and that's critical for a foundation to a healthy construction recovery," Baker said.
Simonson called the recovery "pretty steady but awfully gentle," and though he has concerns, expects construction spending to grow between 6 and 10 percent in 2014, saying he believes it will be closer to 10. He said he expects that type of growth through 2017. In 2013 the industry saw 5 percent growth.
He noted his expectation for labor costs to rise between 2.5 and 5 percent with materials costs growing from 1 to 3 percent through 2017.
Simonson identified three trends helping many regions and construction sectors: the flurry of activity around shale oil and gas drilling, the Panama Canal expansion and the revival of residential spending. He expects "another year of gradual decline in government construction spending," noting that the sector has "continued to cut back on money it puts into discretionary accounts, notably construction."
He also identified his best bets for 2014 in terms of sectors seeing growth:
Multifamily
Manufacturing, especially petrochemical, oil/gas supply
Oil and gas fields
Pipelines
Warehouses
Lodging (hotels and resorts)
Rail
Data centers
Jobs
The latest numbers from March show construction employment at 5.964 million Americans, according to preliminary Bureau of Labor Statistics data.
Baker said he would like to see the industry average 20,000 net new positions each month. In 2013, the industry added 156,000 jobs, an average of 13,000 per month. There were a lot of ups and downs in 2013 with a few months of gains before a loss typically followed by a large gain. So far in 2014, 88,000 jobs have been added, an average of 29,300 per month largely due to January's boost of 51,000 jobs.
"It looks like we're getting close to what we'd like to see in terms of the trend line in adding jobs in the construction sector," Baker said.
Simonson pointed out the dramatic drop in the number of unemployed construction workers. In the last four years, construction unemployment has decreased by 1.3 million workers. However, during that same period, the industry has only added 439,000. That means the majority of those workers have either left for other sectors, returned to school or they've retired.
That places a high priority on finding new workers to replace them. And contractors are definitely looking. Simonson said the majority of firms surveyed by the AGC expect a 9-percent growth in construction spending in 2014.
But because so many of those that have left the industry were were veterans or highly skilled, contractors across the country are having a hard time finding the right people to fill those positions.
Simonson said the AGC survey found that 49 percent of firms say the hardest position to hire is equipment operators while another 49 percent said it was project managers and supervisors. Forty-four percent answered carpenters, 41 percent said estimators and 37 percent said laborers.
Housing
The first quarter of 2014 has been disappointing to say the least when it comes to residential construction. March snapped a three-month streak of decreases to the seasonally adjusted annual rate and that bump was only 2.8 percent to 946,000—down 5.9 percent from a year ago.
Baker said some of that slow activity is weather-related but noted that things are still below the trend line for growth based on what analysts were seeing in the fourth quarter of last year. Markstein said, "Lenders are slowly loosening lending standards and that has been a drag on the market."
Home prices have risen 21.8 percent from their low point during the recession but have slowed, Baker said. That stat is a sign of a rebound in the market but those rising prices combined with rising mortgage rates will likely limit buying power for potential and existing homeowners, especially younger ones.
Baker pointed out that nearly 40 percent of homeowners under 35—those with the most mobility—are paying at or less than current mortgage rates. Mortgage rates for 30-year fixed-rate loans hit an all-time low in 2012 at 3.7 percent. Currently those rates are running around 4.4 percent.
"And as the Fed(eral Reserve) continues to withdraw from the market it's safe to assume mortgage rates will likely return to 1990s (8.1 percent) to 2000s (6.3 percent) levels," Bakers said.
Baker said the consensus of 8 major housing forecasts compiled by the AIA suggests a 23-percent improvement in housing starts to 1.14 million in 2014. In 2015, a 24-percent increase to 1.43 million is forecasted. However, Baker noted that the potential for market is closer to 1.8 million. "So still a long way to go," he said.
Noting many of the same factors, Simonson said "I think single family is going to stall whereas multi-family will continue moving along through 2015…Builders are remaining cautious they're not taking out permits ahead of demand," he said.
Nonresidential
Noting nonresidential's slow road to a sustained recovery, Baker said the sector seems to be getting off to a healthy start in 2014 citing a 6.4-percent year-over-year improvement as of February.
Simonson said he expects nonresidential construction to grow between 4 and 8 percent in 2014 with power and lodging being the biggest winners at more than 10 percent growth. Markstein predicts a 7-percent growth in nonresidential spending to $320 billion, followed by an 8.7-percent growth in 2015 to $328 billion.
Simsonson forecasts transportation construction to grow between 2 and 5 percent but says highway and street construction could remain flat or fall by 5 percent. That uncertainty has a lot to do with whether or not Congress can pass a highway bill that ensures the Highway Trust Fund remains solvent.
The current MAP-21 transportation bill expires at the end of September and the U.S. Department of Transportation expects the HTF to run out of money by the end of August.
Despite the HTF's looming insolvency, progress has been made in the past two months. In February, President Barack Obama proposed a $302 billion, four-year transportation reauthorization bill with the aim of avoiding such a shortfall. The proposed bill includes $63 billion to fund the gap in the Highway Trust Fund in the near term. According to the White House, the funding would address the insolvency of the fund for four years.
And just last week, key senators announced that they had reached a bipartisan agreement on what they say will produce a long-term highway bill that would keep the current levels of funding with an increase to account for inflation each year.