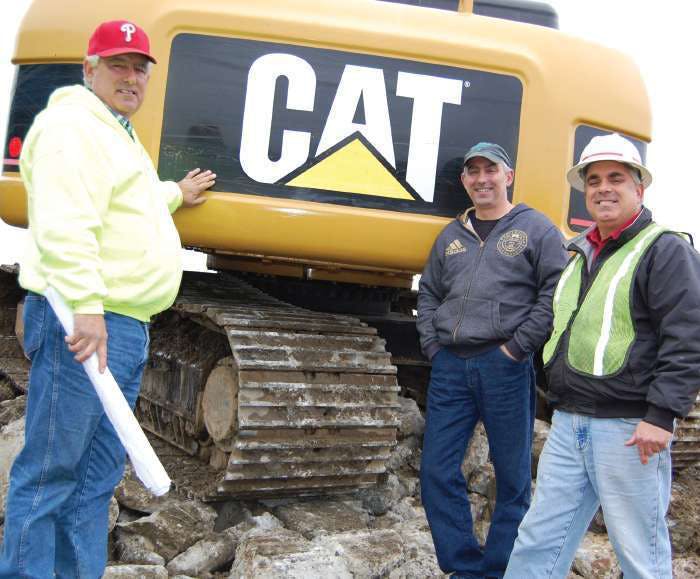 Glendale Excavating's three brothers—Tommy, Dany and Greg Giangiulio—take pride in their construction heritage.
"We're third generation operating engineers," says Dany. "We watched our grandfather operate equipment when we were kids, and begged to go to work with our father." Adds Greg with a laugh: "It's not that we had any choice in the matter."
Glendale Excavating began in 1984, taking its name from the Glendale section of the town of Voorhees, New Jersey, just over the Delaware River from Philadelphia. The brothers now concentrate on site development, utility and bulk earthmoving in South Jersey.
Like most contractors, Dany remembers the company's first machine, a backhoe with more bells and whistles than most first machines, including an enclosed cab and extendahoe.
At the start, it was just Tommy, and Dany. The two offered their services—and their machine—on a rental basis to other contractors. "That made us enough money to buy a D3, then we added a Cat 941 track loader," Dany says. By 1986, the brothers had added a D6, excavator, scraper and lowbed.
"Running, running, running"
Although their father, Thomas Sr., had one foot in his day job—directing operating engineers on several large projects—and another in helping out his sons, the brothers eventually convinced him to come on board full time.
"He took over the office, operations and maintenance," Dany says. In the mid-80s, the work was plentiful and Dany and Tommy were "running, running, running," Dany says, doing site development in a number of markets. (Greg, the youngest, joined them later.)
The company has gone through some survival scares and readjustments. "Dad took care of the business end, and we really suffered when he retired after falling ill," Tommy says. "We had to learn about things like billing and insurance." They eventually brought in Carmen Lavergetta to handle the business side. "He's dealing with banks, bonding companies and accountants, giving us the ability to stay out in the field and do what we do best," Tommy says.
The firm does a 50/50 mix of low bid/negotiated work. A ride in a pickup around the community quickly becomes a resume of past jobs. There's the addition in 1992 that more than doubled the size of the high school, and the area's first $1 million site package for a shopping center.
Currently, the company is doing site development on the Evesham Recreational Center, which at one point involved importing 60,000 cubic yards of material.
"Not afraid to do anything."
While Greg handles the office, Tommy takes the early shift, and Dany takes the late shift. "It kind of fell into a grove," Tommy says." By 4 p.m., I'm usually punched out."
Tommy was glad when Greg moved from the field to the office to take over estimating. "With a family member, it's not only their job, it's their livelihood and their family. You have a whole different approach to it," Tommy says.
"We're not afraid to do anything," Tommy says of the 29-year-old company that averages 15 to 20 employees. "I honestly look at things from the perspective if you can take it apart, it's a mechanical thing. It can be built. There's no reason you can't do it."
"They simply get it done," says client Raymond Herman, president, Herman/Stewart Construction. "They take it very seriously, and they know how to execute soup to nuts. If any issue will reflect on the success of a job, Tommy will be dogged about it. There's a lot of value added with Glendale."
Lean operation
"If you can't make a couple bucks on a job, you've got to walk away, because we're done practicing," Dany says.
So Glendale keeps their operation lean. Their earthmoving fleet is paid for; "we're not in the position where we have to get work just to pay for the equipment," Dany explains.
"Small repairs out in the field are what I cut my teeth on," Tommy says. "My father believed just because a machine broke down doesn't mean you're going to take it back to the shop every time to fix it. We have very few breakdowns that take us longer than two hours to fix."
The brothers have an obvious respect for their mechanic, Mike Gonnelli, whom they say has an intuitive ability to fix machines. Mike is also a person who has things nailed down in the shop, Tommy says. "For instance, if you come in there and start messing with the filters, you learn quickly that you don't move stuff around. He's got it set up so he can glance across the room and see if he needs a to order a filter."
This meticulousness is even remarked on outside of the firm. "Mike makes sure the equipment is repainted every two years," says vendor Michael Forte with MJF Materials. "It looks impeccable."
While the company's office is in Vorhees, the firm's equipment shop and yard is located on Tommy's farm about 20 minutes away. "During our first 10 years, we were literally working outside on our equipment," Tommy says. The company used telephone poles scavenged from jobs to build a 65-by-70-foot shop lean-to, where they park trucks and equipment. "It was just a way to get stuff out of the weather," Dany says. "The guys come in and they don't have to scrape frost off the windshield."
"Our ability to work hard has kept us in the game," Tommy says. "We were taught you just don't let up." His advice to those just starting in construction? "What you lack in experience, you have to make up with desire. That's the way this business has always been."