In my last post, I wrote about my industrial minerals company learning experience and the importance of asking for input. I've got another example from that experience I'd like to share.
Action No. 5: Provide information and feedback in a timely manner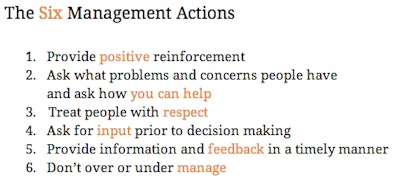 Asking for input before making the decision to undertake the Total Quality Management initiative proved to be rewarding for the industrial minerals company. TQM and the Six Management Actions became the cornerstone for changing the way employees worked.
But it took some time before implementing the Six Management Actions became a normal way of working. Why? The employees took ownership by having a greater understanding of the business.
To ensure that we could sustain this way of working, a President's Club was established to acknowledge, recognize and award employees for their contribution. At the annual President's Club meeting an employee was voted, by his or her peer, to win the prestigious top prize for making the greatest contribution to our success. Basic, but it works!
Action No. 6: Don't over- or under-manage
Now managing a group of highly skilled professionals that are self-motivated and self-starters presents another opportunity to use the Six Management Actions. Look at each employee and ask: Does this type of employee need managing?
What management style is best suited for them? Consider this: In the main, professionals do not need to be told how to do their job. They need only to be an integral part of setting the goals, specific objectives and given the tools necessary to perform.
Support them with regular feedback. Make sure the organization and peers know of their performance and contribution to the business strategy. Here is a case where it's easy to under-and over-manage. Regular positive reinforcement with constructive critique is vital to bolstering their self-esteem.
Now that I have taken you on a personal journey of my management experiences, I hope this has given you a helpful self-examination of your own management style. The Six Management Actions are nothing more than reminders of things you probably already do on a daily basis. If not, try them and see if they help you become an even better manager and leader.
About the Author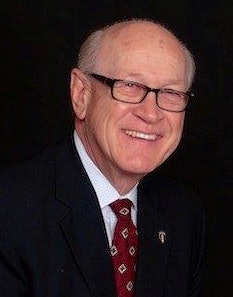 Wes Lee, president of Lee Advisory Services, has a vast resume of experience in the construction equipment business, serving in positions ranging from engineer to president with several companies, including the former International Harvester (now Navistar), Kysor Industrial, Construction Equipment Trading Company, Dresser Industries, the former Komatsu Dresser (now Komatsu America), Eagle Picher Minerals, and Case New Holland (now CNH Industrial). He retired in 2013 as vice president of key accounts for Volvo Construction Equipment North America. He can be reached at www.weslee.biz, wes@weslee.biz, (828) 279-2068.