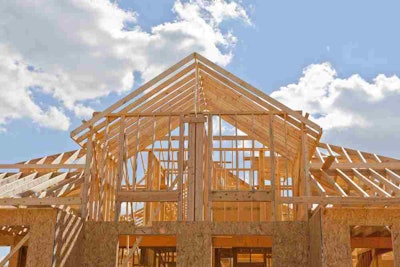 Add southeast Wisconsin to the list of places in the U.S. feeling the impact of a skilled labor shortage in construction.
The Janesville Gazette reports that contractors in that area are "busier than they've been in a long time," thanks to numerous housing starts popping up. The Gazette interviewed contractor Kevin Ferguson, owner of Ferguson Custom Homes, who told the paper that he's got two homes planned and ready to build but is waiting on a concrete guy who's busy with his own load.
"What I've found to be difficult, and it's a real problem, is with all the companies going out of business during the recession, it's getting things done like concrete work and (house) framing. There are fewer guys that do these things and they're spread out. So it's a wait," Ferguson told the Gazette.
Ferguson told the paper that the shortage is already causing delays. "(Local construction) competitors, we're all kind of buddies. But we're all using the same guys as subcontractors. There's only so many to go around. It kind of sucks."
Even guys like Rod Hirsch, whose company does much of the work many other contractors subcontract out and therefore hasn't been impacted by the shortage, are worried by the long-term effects.
"If you have a lot of big delays in finishing because you have a labor shortage, it affects cost. You start getting more and more of that, and you are going to see prices go up," he told the Gazette.
What really makes the Gazette report stand out however is that the paper sought out one of the thousands of workers who left the construction during the recession (a big reason we're seeing a shortage now) to find more stable work. Bruce Panici is a former cabinet maker who recently opened his own motorcycle and ATV shop after going to school to earn a mechanics degree for those vehicles.
"A lot of workers like me, they found themselves in the unemployed-and-overqualified line," Panici told the Gazette. "During the worst of the recession, nobody was going to hire me. I figured, if I'm going to have some self-respect, and make any kind of a living, I've got to go into a business myself."